Are massage chair pads worth it?
Last Updated on September 25, 2023 by Emily
Massage chair pads are a recent invention that has taken the world by storm. They allow for easy, hands-free massages to be done at home without any hassle or fuss. Many people use them daily to keep their muscles loose and pain-free. The question is: are these massage chair pads worth it?
What Is A Massage Cushion?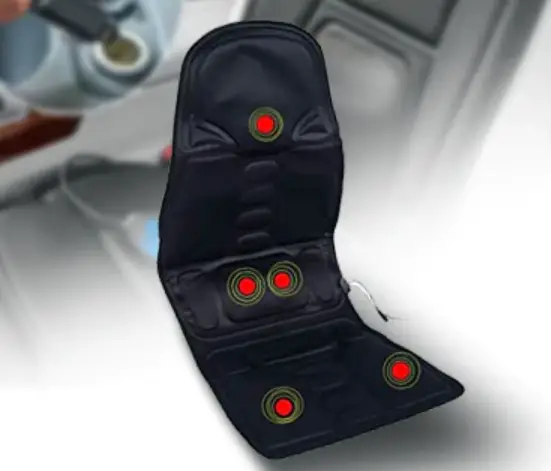 A massage cushion is a large, comfortable pad on which you can recline while having a massage. It is used by some people who have difficulty lying down comfortably during a bodywork session.
Massage Cushion Features
A remote control that lets you change channels or the intensity of the massage cushion.
Many massage cushions allow for manual selection of function and intensity.
Heat therapy is available in most massage cushions, both entire body and specific target focus.
Different massage types are available in some massage cushions, including Shiatsu.
Does a massage pad work?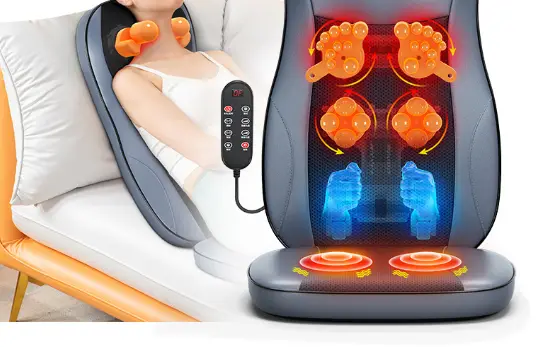 The massage pads are a tool that emits heat and uses electronic pulse massaging to help relieve your symptoms. Massage cushions work by redistributing pressure to areas with low pressure, allowing the application of deep tissue massage with minimal effort. If someone's muscles are tired or sore, they may feel pain in certain parts of their body. The massage cushion works to help reduce the pain and rid the person's muscles of tension before it turns into full-blown muscle aches or fatigue.
How Does A Massage Cushion Work?
The primary purpose of a massage cushion is to provide back pain relief, but it has other benefits like stress relief and relaxation. A massage cushion works in the following ways:
Rolling Massage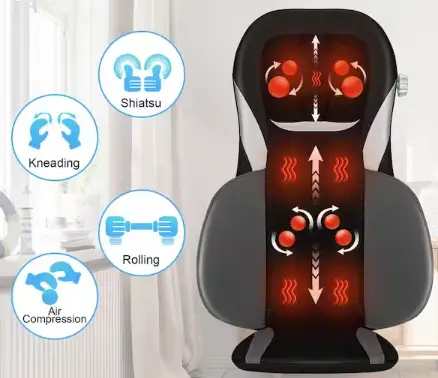 A massage cushion with rolling massages goes in circles or side to side across your body, similar to the hands of a masseuse. This type of massage is excellent for back pain relief and total body relaxation.
Kneading Massage
A kneading massage cushion squeezes, shakes, and presses your muscles to increase blood flow. It's a deep tissue massage that can relieve tension or soreness from working out at the gym or just being at work all day.
Vibration Massage
A vibration massage cushion vibrates, shimmies, and shakes to reduce stress. This type of massage is more about relaxation than pain management. It's a great way to unwind before or after work.
Shiatsu Massage
The Shiatsu massage cushion is a classic design with four bars that move in a kneading motion. This type of massage is the most common type on the market today.
Vibration And Rolling Combo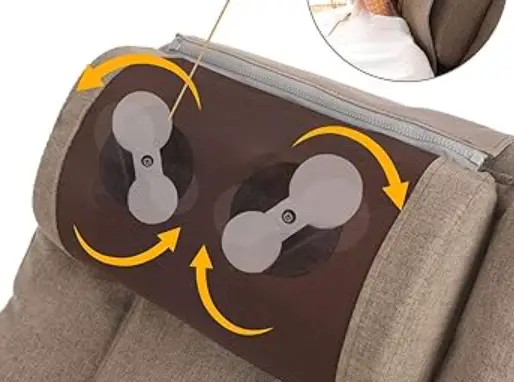 Vibration and the rolling combo have knead and rolling sections to provide a massage that deeply massages your muscles and offers total body relaxation. It's effective for those who need a massage for their back and experience stress or soreness from work.
Benefits of massage chair pad
You will get the following benefits:
Decreased stress levels: Massage is a great way to relieve stress and pesky knots in your back! If you can't get a professional massage, using one of these cushions will help out.
Increased circulation: When your muscles are relaxed, they release toxins faster than when you're tense or stressed. When you get home from work or after a long day, using this type of cushion will help get your blood flowing and promote good health.
Prevention of illness and disease: Massage stimulates the lymphatic system, which helps fight off infection and bacteria. Using this cushion regularly will keep you healthy all year round!
Increased quality of sleep: If you use your cushion right before you go to bed, it will help relax your muscles and make it easier for you to fall asleep. Your sleep patterns will also improve with regular massage.
Ability to handle daily stress better: When your muscles are tight and knotted up, it makes everyday tasks like picking up the kids, folding laundry or working in the garden much more difficult. Using your cushion regularly will give you less tense muscles and more relaxation.
Ability to focus better: Your mind and body are connected, so it's essential to keep the muscles in your body healthy and relaxed if you want to prevent headaches and migraines. Using your cushion regularly will help with mental clarity and focus and improve your overall mood.
How Long Do Massage Cushions Last?
Many massage cushions can last for years and still be very effective. It depends on how you care for the device and how often you use it.
Is It Safe Sleep On A Massage Cushion?
It's unhealthy to sleep on a massage cushion if it has a short, shallow range of motion. It will not provide a massaging effect for your spine while you're sleeping.
If a massage cushion moves in a wide, circular motion, it is safe to sleep on it.
Where Can I Buy Cushion Massagers If I Don't Want To Buy Online?
If you're looking for a good massage cushion but don't want to spend big bucks, try buying one of the less expensive models. They are still high-quality products that work well and won't break your bank. You can get them at many stores that offer household supplies and appliances or order them online.You'll find lots of retailers around town which sell these products! Check them out and see what they have available for sale today!
Conclusion
One of the benefits of using a massage chair pad is taking it with you when travelling. It will help relax your muscles while on vacation or in transit. Plus, Massage cushions are affordable and come in many varieties, so there should be something for everyone. So whether you're looking for relief from joint pain or need some relaxation time, try purchasing a cushion massager today! You won't regret it!