How do you transport a massage chair?
Last Updated on September 25, 2023 by Emily
As the end of the year approaches, many people consider purchases for their homes. One popular item on any list is a massage chair. These chairs have become increasingly popular in recent years due to their convenience and ability to help soothe tired muscles after a long day at work or play.
However, one thing that might not be considered when purchasing a new chair is how you will transport it home from your favourite store!
We're here to give some tips on how to get your new chair safely home without damaging it or yourself, no matter what size vehicle you drive! You are safely transporting Your Chair. To avoid any damage, different ways to transport a massage chair.
Massage chairs are large and heavy pieces of furniture, so you will need to make sure that you can move them. You will also want to ensure that the chair doesn't get damaged during movement. Make sure to follow the manufacturer's instructions on how best to lift or carry your massage chair to avoid any damage.
Decide how you are going to transport the massage chair.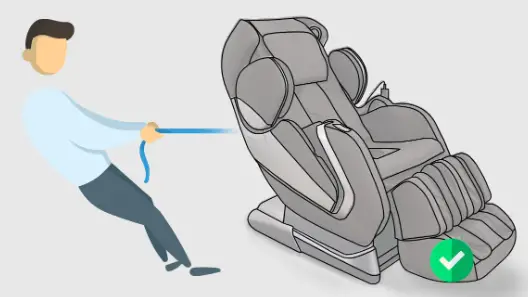 The best way to transport a massage chair depends on what kind of equipment is being moved and where the chair will be moved. There are many different approaches that one can take when moving a massage chair, which means that it is best for individuals who have a massage chair to properly research each approach before deciding on the one that works best for them and their equipment.
Carry the chair by hand: One way to transport a massage chair is to carry it by hand. This approach is often the cheapest and simplest way to move a chair, although it can also be the least practical if there are many pieces of equipment that need to be moved. Carrying a massage chair by hand does not require many tools or extra items, but one will have to have the good physical strength to lift the chair and bring it along properly.
Use a piece of equipment, such as a stair-climber: Another way to transport a massage chair is to use moving equipment, such as a stair climber. A stair climber allows users to transport large appliances up flights of stairs without exerting much physical effort. One will have to load the massage chair onto a stair climber before taking it up flights of stairs, although this approach does not require that much physical strength.
Use a moving truck with ramps: Another way to transport a massage chair is to use a moving truck or van with ramps attached. Professional movers often make this approach, but it can also be carried out by individuals moving their chairs themselves. This approach requires the most preparation and effort for the individual who is trying to transport a massage chair. One will have to ensure ramps are available for entering and exiting the vehicle not to injure one's back while bringing in equipment. One will also have to ensure that the vehicle is large enough to hold the massage chair. Furthermore, one may need to pay more than usual for moving services to transport their massage chair via a moving truck with ramps.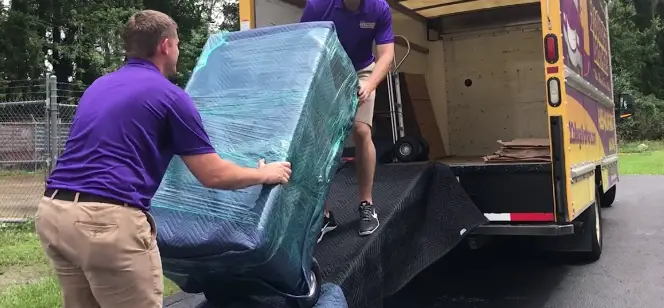 Hire a professional moving company to transport the chair safely and quickly: Another way to transport a massage chair is to hire a professional moving company. Professional movers have the tools, resources, and knowledge to transport massage chairs without damaging them properly. This approach can be more expensive than some alternative approaches, but it also tends to be easier and safer on the part of those trying to move a massage chair.
Transport your massage chair using a car, a truck, a storage device or an airline: One of the main considerations in transporting a massage chair is how much space can be available. Their car will be the most accessible place for many people to place the massage chair. However, this depends on the dimensions of both your car and the massaging device. It would help if you got out measurements before moving the massage chair. If your car is not large enough, you may have to consider transporting it in a trailer or van.
When you use a car to transport your massage chair, secure the chair in a car seat. If you don't have a car seat, attach the chair to the back of a seat using a strap or bungee. Attach the other end of the strap to a door handle. Make sure there's enough room for you to enter and exit the car without hitting the massage chair.
When you use a truck to transport your massage chair, attach the chair onto hook-and-loop straps on the sides of the truck bed. Ensure the chair is tied down to prevent it from moving during transport.
If you are using a storage device to transport your massage chair, you can use a wooden pallet to support the chair. Attach the massage chair onto the pallet using hook-and-loop straps. You can use a forklift to lift the pallet onto the storage device.
When you are using an aeroplane to transport your massage chair, store the chair's headrest inside of the box. You can disassemble the chair if you need to make more space. Make sure the chair is wrapped in a blanket and transported to the cargo area of an aeroplane.
When you are using a ship to transport your massage chair, make sure the chair is attached to a pallet. Cover the massage chairs with a waterproof tarp to protect against damage due to water. Get a shipping quote for transporting your massage chair before sending it out.
Manufacturer's instructions when transporting your massage chair
Before transporting your massage chair, read the manufacturer's instructions carefully since every brand has different recommendations.
Do not disassemble the chair. If you must transport your chair for more than 20 minutes, detach and wrap the power cord around the chair.
Place a blanket over the chair and secure it using an appropriate strap to prevent the massage head from moving during transport.
Ensure the backrest is in the most upright position before transporting the chair.
Cost to ship a massage chair
The shipping cost of a massage chair depends on the size and weight. For more information, please get in touch with the massage chair manufacturer for an exact quote. Delivery times may vary depending on the country or region.