Renpho- The Best Handheld Percussion Massager Review
Last Updated on September 13, 2023 by Emily
Renpho – Best Handheld Percussion Massager
In this modern era, we are still engaged in so many things with having good technological things in our hands. We work day and night to get a good income and strengthen our financial status, but in this concept, we gradually lose our health.
In a young age, we feel the pains of an old age. Here is the RENPHO Rechargeable Handheld Deep Tissue Massager to give you relief from chronic pains in seconds.
The deep tissue massager gives you the convenience of having a soothing massage. It gives you a relaxing massage. With having this massager, any pain will go away in just a few minutes.
Its ergonomic design allows you to do massage of any part of your body. It is specially designed to relax your feet, calf, shoulders, neck, back, muscle, arms, and legs pain with its vibrating massage.
It reaches to your muscle tissues and in-depth and gives relaxation from tension. RENPHO is a best vibrating massager and is good for your healthy life.
It combines different characteristics in one portable tool such as comfort, flexibility, and firmness. These characteristics impress us to use it. It calms the symptoms of anxiety and depression and also provides relief for the physical state of your body.
The massager gives you a healthy mind and a healthy body to make you an active member of your society.
Safety Design and Powerful Motor
The massager has an extremely powerful motor that delivers up to 3600 pulses per minute. Its great motor could relieve pains effectively in a couple of seconds. It has another characteristic of auto shut-off after 20 minutes of use for safety measures.
It can be good for some users and can be bad as well for some users. The motor will automatically stop working to prevent the massager from overheating.
Cordless and Rechargeable
The massager comes with a built-in- rechargeable battery and is cordless. Its battery works for 2 hours. Once you charge the battery, you can have complete body massage on a single charge.
It has a 2600 mAh Lithium-ion battery. It also comes with a wall charger. In addition, you cannot use the massager while the battery is charging because it may cause any damage.
Portable Design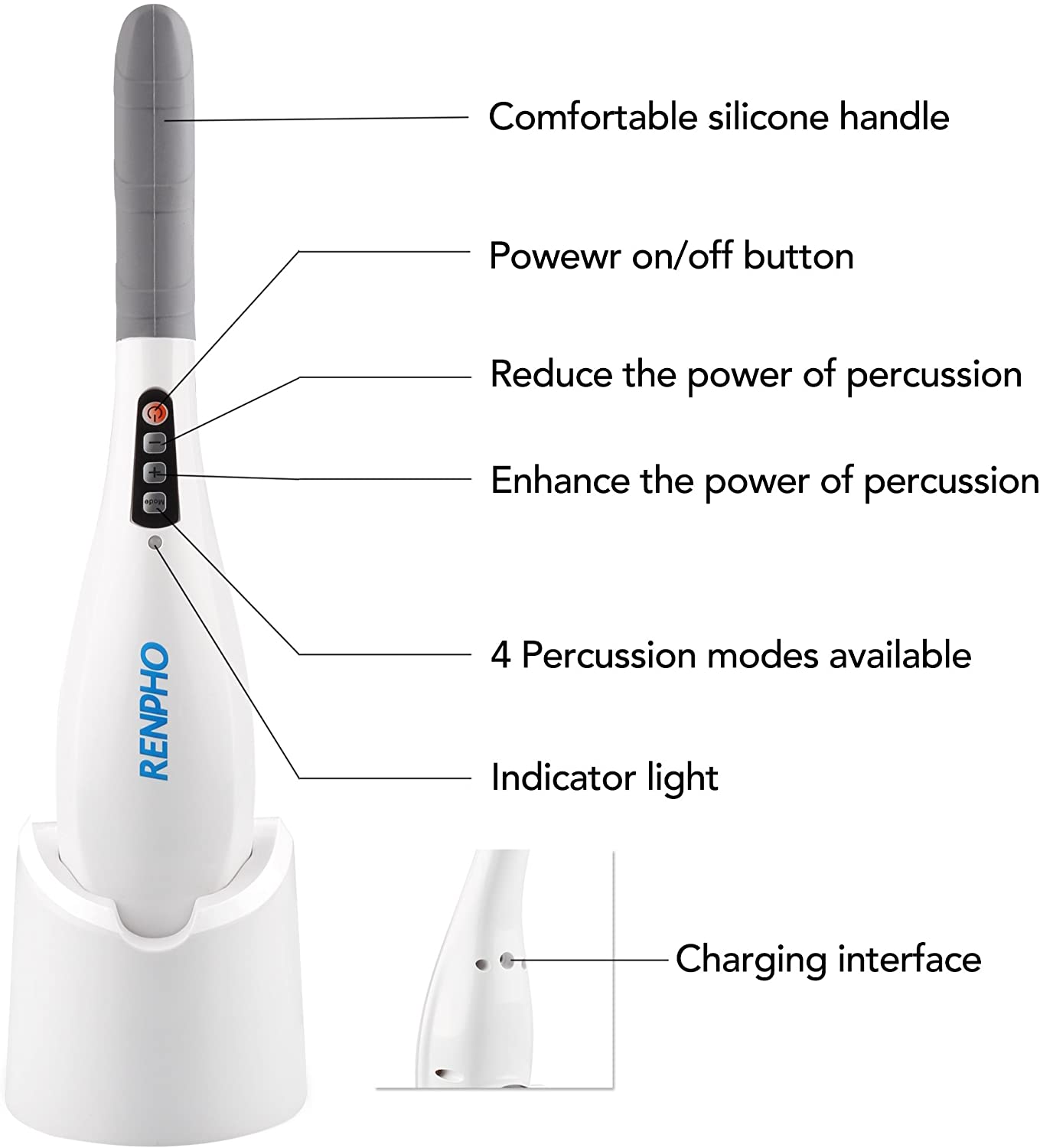 This handheld massager is lightweight and portable. It is made of a high-quality ABS plastic. It has a long ergonomic handle which allows the device to reach everywhere of your body for the perfect massage.
Its ergonomic design handle makes it comfortable to hold and allows it to reach hard-to-reach areas easily. You can take the device to the gym, office and anywhere where you want.
Different Attachment Heads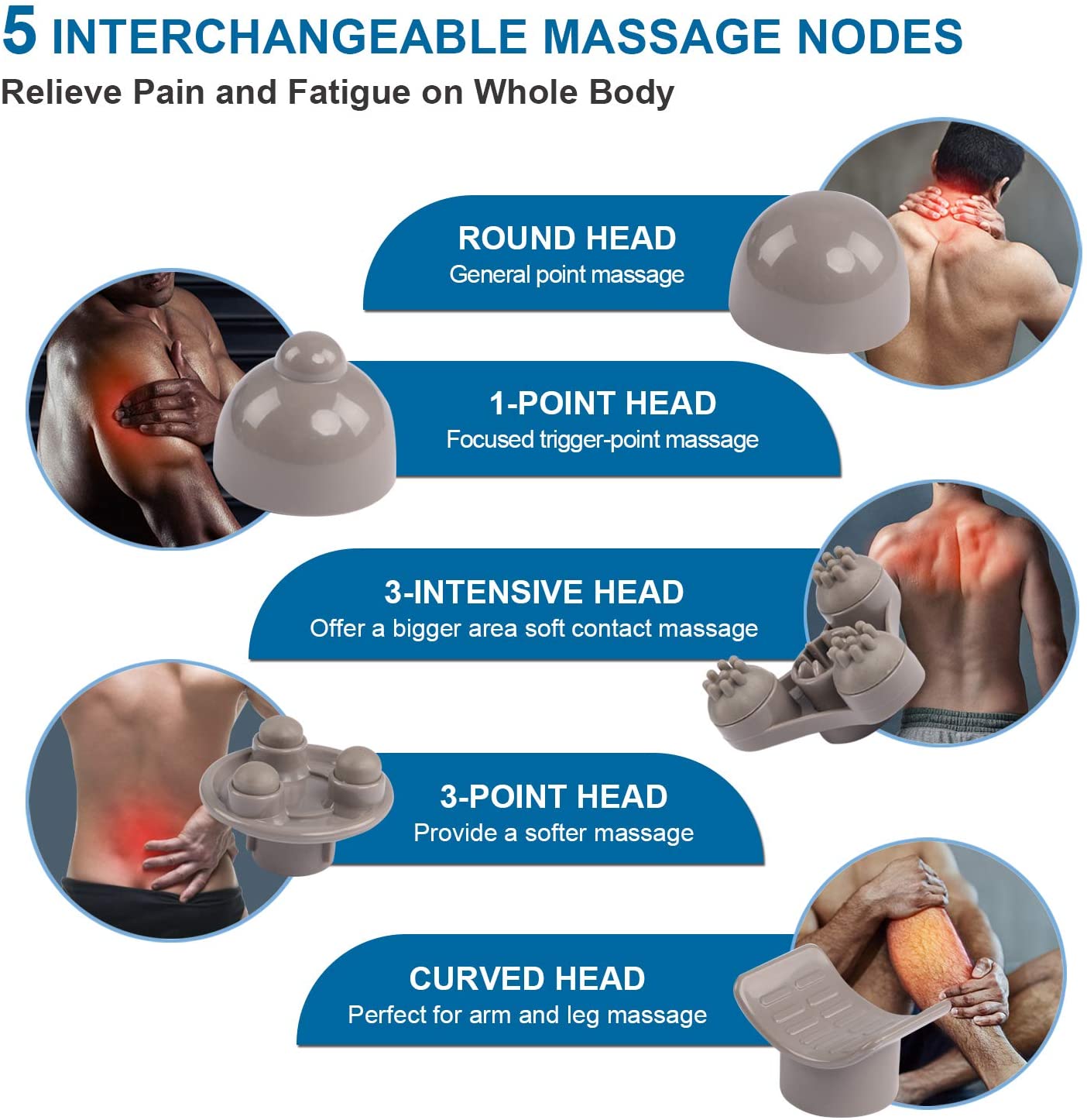 The rechargeable massager comes with five 5 interchangeable heads. It heads include round head, 1-point head, 3-intensive head, 3-points head, and curved head. You can enjoy different massage experience by using different head with its 4 strength modes.
Round head gives general massage; 1-point head focuses on trigger-point massage; 3-intensive head offers a bigger area soft contact massage; 3-point head provides a softer massage, and the curved head is for arm and leg massage.
Percussion Modes
The massager comes with another best quality of modes. It comes with 4 strength modes. The percussion modes offer you a deep tissue massage. It will quickly remove joints knots and relieves muscles.
Most of the massagers lack this quality. You can enjoy a massage like a professional masseur. You can have it anywhere.
Warranty
It comes with 12 months warranty. The massager also comes with a user manual. In that manual, all the instructions are mentioned for users' guidance. You might not face any difficulty with that guide book.
In case of facing any problem after the warranty period, you can contact the manufacturer.
Conclusion
RENPHO is one of the best handheld massagers. Its compact design gives the entire body massage through its ergonomic handle. You may have used a pricy massager, but this handheld massager gives you all the functions of other massagers at a low price.
Check out other best and cheap handheld massagers.
Comparison of RENPHO Deep Tissue Massager with Wahl Deep Tissue Percussion Massager
Wahl percussion massager strengthens deep-tissue muscles. It is good for the increase of local blood circulation which makes percussion massage great for large muscle areas with serious aches and pains.
It reduces pain and fatigue from joints, sports injuries, arthritis, muscle knots, stress. It is also used to improve flexibility. It helps to reduce inflammation, muscle soreness, stiffness, chronic pain and solves the disease of fibromyalgia.
Both Wahl and RENPHO are deep tissue massagers. One can deny the value of a massager over others. Both massagers go hand by hand according to their functions.
RENPHO and Wahl both have powerful motors. The Wahl delivers 3350 percussions per minute while RENPHO delivers 3600 percussions per minute. RENPHO has 5 interchangeable heads, however, Wahl has 4 different heads.
RENPHO is a cordless massager, but Wahl is not. Wahl comes with a 9-foot power cord. RENPHO comes with Lithium-ion battery.
There is one feature in Wahl which RENPHO doesn't have that is Wahl's healing power. Both massagers are lightweight, portable and noiseless.
After comparing the qualities of both the massagers, we came to the conclusion that both give quick relief from pain. Both are used for deep tissue massage. But we prefer RENPHO over Wahl due to its good looking style and qualities.
Comparison Chart
| | | |
| --- | --- | --- |
| | RENPHO Deep Tissue Massager | Wahl Deep Tissue Percussion Massager |
| Weight | 1.8 pounds | 1.6 pounds |
| Battery life | 2 hours | N/A |
| Battery | 1 Lithium-ion battery | N/A |
| Dimensions | 15.55×4.72×5.5 inches | 6.5 x 16 x 10.9 inches |
| RPMs | 3600 | 3350 |
| Attachments | 5 | 4 |
| Noise Level | Quiet | Quiet |
| Speed Levels | 3 speed modes | Variable |
| Price | $ | $ |
| Portable | Yes | |