Last Updated on October 13, 2023 by Emily
Theragun – Smart Percussive Therapy device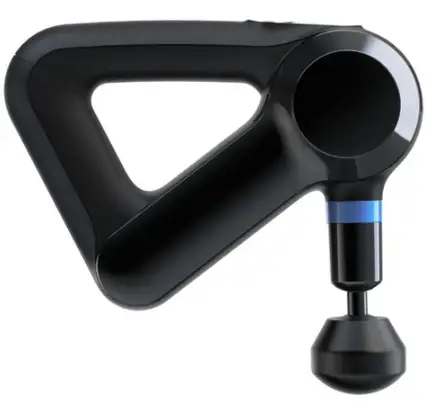 If you are living at any place where therapists are everywhere around you. You will choose the best one by the reviews of persons who attend them. This idea represents the Theragun which was developed by a chiropractor as a tool like your personal massage therapist with you anywhere. Ttherragun was developed after a motorcycle accident in Jasoon Wersland, DC. Wersland makes this tool after his accident to recover his body. Wersland has an idea in his mind to help people to get relief from muscle soreness, tightness, little aches, and pains at home. When this tool was developed and tested it get rid of muscle pain in minutes and the user felt relax from all types of body tiredness and muscle tensions.
Models of Theragun

Two models of Theragun mostly love by people are available in the market:
Elite
Pro
Salient Features of TheraGun G3 PRO:
It comes equipped with six attachments and an adjustable arm so users of all heights can target any part of their body successfully.
Handling up to 60 pounds of force before stalling, provides pretty powerful percussive therapy.
While its battery life is only 75 minutes, the GP3PRO comes with two batteries both of which are rechargeable, so you can use them interchangeably.
On the plus side, it comes with a nice carrying case and an interactive app.
High-Tech features ofTheraGun Elite:
If you're looking to upgrade your massage to a high-tech option, check out the Theragun Elite. This is a new model of Theragun with the best high-tech qualities and best features than previous models:
It has Bluetooth connectivity.
It has an OLED screen that keeps track of your speed and pressure level, and you can customize the speed and pressure according to your need.
High-tech tool adjustment, speed of the gun from your smartphone.
It has 120-minute battery life.
Its speed ranges from 1750-2400 pulses per minute.
It is 75 percent quieter than Theragun's previous models. The Elite is made with Quiet Force technology, it can do massage without making noise.
Elite penetrates deeply and relieve painful muscle tension. The Theragun Elite was considered and proved as one the best massage gun by researchers because of its stellar look, outstanding functionality, and high-tech features. It is considered the Apple of massage guns.
Elite and Pro mostly have the best qualities thoughtfully, They are designed according to carry in hand lees weightage. Both aces LED screen which shows speed and forces exactly. Each has a whisper-quiet to reduce noise pollution. These are easy to use by anyone and strong enough. Its motor has a pulse up to 2400 times in one minute which works without skipping and stalling. With a maximum of 40 strikes of force and 5 accessories, the Elite has a powerful motor. It relaxes different parts of the body with different sensations. In the Theragun line, it is the quietest device. It has a removable lithium-ion battery with 120 minutes of battery timing.
In Pro for hard-to-reach spots have percussive arm swivels and also have 60 pounds strikes force with 5 accessories like Elite. I have an extra super softball that is used on joints and bony areas of the body. It has two lithium-ion contaminating rechargeable batteries with 300 minutes of battery timing. The best thing in both pro and Elite have a wireless charging stand of batteries, which makes it easy to charge batteries out of the gun and an easy way to charge and keep them.
All experts chose the Theragun G3 because it facilitates both pre-workout and post-workout to maximize recovery it has multiple speed options. To help you decide to target large muscle groups or small muscles it has multiple attachments. As compare to previous new models are up to 50 percent quieter. Which make it environment friendly during use. Theragun is just expensive than other guns but its high-tech features are worth this price. The fourth generation of Theragun comes with the best features ever tested for a massage gun. In the massage gun industry, Theragun is in the top position for the last several years. Its new model of the fourth generation maintains its top stream as well by its high tech features. It gives superiors performance from the all tested professional-grade massager guns in a premium package.
Research about shopping always involves comparing one gold standard affordable brand competing models with that. As Dyson from vacuums and Apple from tablets. Due to its power, the Theragun reigns supreme. It's capacity to reach muscles very deep as 60 pounds of force in each 16mm punch to penetrate the tissues where even the best masseuses may not reach. Theragun suggested only two minutes on each area because it's too strong.
The Theragun G3Pro upgraded addition is available with six interchangeable heads:
Dampener
Large Ball
Standard Ball
Wedge
Thumb
Cone
For targeting smaller areas the range is particularly handy. For persistent bumps between shoulder blades and on the arch of the foot, it requires more carefulness. Its precise characters are ergonomic doughnut shape and four arm angles make it easy to twist around to nail places. Which is usually incredible without someone other's help.
If you have no idea to use the attachment for your area of pain, Theragun's app helps you out to treat each muscle group, because it is available with a brief guideline.
Using Theragun in 5 Simple Steps:
The developer of Theragun Wersland tell the use of Theragun in five steps to comfort the body after the whole day of busy routine work:
Before putting Theragun on your body turn on the Theragun. Because turn on Theragun after putting the body part may cause a little jarring.
After putting it on the body don't apply any pressure on Theragun, let it float.
Theragun moves slowly as glides along with the muscle about 1 inch per second.
Let the Theragun rest on the area of tension for a few moments without adding additional pressure.
Inhales and exhales deep, breathe nice long, and feel relax from tension.
Features of TheraGun
Strokes per minute: 1,740 to 2,400
Stroke depth: 16 mm
Speed settings: 2
Battery life: 150 minutes and2 removable batteries
Interchangeable tips: 6
Design: It is beautifully designed in a triangular-shaped body, its impressive design is now smaller and lighter than the G3.
Noise level: The Elite is about 75% quieter thanks to the new QX65 brushless motor.
Colours: Available in white or black!
Models: they do offer the Prime and mini models too.
Speed: 5 speeds available with up to 40lbs of stall force pressure
Accessories: The Theragun Elite comes in an attractive moulded case with 5 attachments of rotating massage heads and a power cord.
OLED screen: which displays the current PPM, a real-time force meter, and battery life.
Theragun Smart Percussive Therapy Massager Pros
2 years warranty
Adjustable massage arms
Customizable speeds
60 lbs of no stall force
Easy to control and use
Six easy to clean closed-cell foam attachments
Adjustable arms for a full-body reach
Comfortable ergonomic multi-grip
2 interchangeable batteries
Protective travel case
Theragun Massage Gun Cons:
Theragun Smart Percussive Therapy Massager Review
In a world full of massage devices, the Theragun Prime isn't just another loud one; it's really soothing. When I opened the box, its modern design looked like the next big thing for relaxing muscles.
Product Pros:
Compact design
5-speed settings
Bluetooth connectivity
LED screen
Fourth-generation model
Compact But Mighty:
Theragun Prime's compact size had me skeptical initially, but boy, did it pack a punch. Unlike many behemoths in the market, it's discreet and easy to handle, making my therapeutic sessions less of a workout.
Customizable Speeds:
Five adjustable speed settings ranging from 1750 to 2400 percussions per minute? Yes, please! As someone who's experienced a broad spectrum of muscle tensions, I appreciate that I can fine-tune my relief. From gentle pulsations for those tender post-workout muscles to more intense thuds for stubborn knots, it's a user's dream.
Smart Connectivity:
The Bluetooth functionality caught my eye, enabling a seamless connection with the Theragun app. Though it's a newer feature with some kinks to iron out, I'm excited about where this could lead in terms of personalized therapy sessions.
Clear Display:
The LED screen, albeit a simple addition, provides real-time feedback, ensuring I'm always in control. It's an underrated feature I never knew I needed until I had it.
Generational Evolution:
As a fourth-generation model, Theragun Prime exhibits significant improvements from its predecessor, Theragun Liv. It's evident the design team took user feedback seriously, enhancing the user experience while retaining core features that made the brand popular. I appreciate the iterative enhancements, proving that Theragun isn't just resting on its laurels but is in a relentless pursuit of perfection.
Now, while I sing praises of the Theragun Prime, it isn't without its quirks. I genuinely missed the presence of a sturdy protective case. The provided pouch, though soft, doesn't offer much protection. Yet, it's a minor inconvenience for a device that otherwise feels like the future of muscle relief.
In the ever-growing market of percussive therapy devices, choices can be overwhelming. From my experience, Theragun Prime is a standout option, not just for its tech integration but for its primary purpose – alleviating muscle pain efficiently.
In my expert opinion, if you're hunting for a smart percussive therapy device that delivers, your search might just end with Theragun Prime. Dive in and let those muscles thank you!
| | | | |
| --- | --- | --- | --- |
| Feature | Theragun Prime | Theragun Elite | Faragon Prime 4th Generation |
| Price | Middle range | Higher-end | $299 |
| Design & Build Quality | High quality, well-made | Sleek, modern, ergonomic | Small, compact, ergonomic triangle handle |
| Noise Level | Quiet, can be used while watching TV | Advertised as one of the quietest | Between 55-60 decibels, quieter than 3rd generation models |
| Attachments & Accessories | Comes with multiple attachments, no case included | Five total attachments, comes in a sturdy case | Four different attachments, comes with a soft pouch |
| Battery Life & Charging | Good battery life, dependent on usage | Not mentioned | Two hours battery life, charges in 80 minutes |
| Speed & Performance | 5-speed device, provides a range of massage intensities | Not mentioned | 5-speed, 1750-2400 percussions per minute, Bluetooth capable |
OPOVE M3 Pro Massage Gun Deep Tissue Percussion Muscle Massager
In the advancement of technology Opve, M3 Pro Massage Gun is a good example. In the last year or two handhelds, deep tissue percussion massagers demand increases. Besides everyone's choice is the Theragun PRO has a Price Tag that is not in everyone range. The Opove with one-third of the cost and very comparable features available now for us.
Design and build quality:
The buildup design of Opove M3 Pro gives it looks of premium and high quality. A black outline around the front and the handle of brushed metal finish give it a beautiful look. It has more than one colours choice:
Buffed silver
Black
Camouflage
It faces a little complaint about buildup strategy is that the solid looks and feels percussion massager in the hand. At the back of the handheld, massager LED lights are present. The selected speed and battery life showed on the LED which makes it easier to adjust. Only with a weight of 2.2 pounds and an easy handling design, it is so easy to carry and use it. It is designed to reduce noise by about 35 decibels which makes it enjoyable to use and thus Opove scores high marks for its build quality and autistics.
Features:
Weight: Only 2.2 pounds pretty light and easy to handle.
Dimensions: 15.6 x 9.1 x 3.5 inches.
Modes: Variable speed with 3 different levels.
Battery: Lithium-Ion battery included with 3 hours of usage between charges.
Accessories: Charger, 4 massage attachments, and a free carry case.
 Variable speed setting: To customize a wider range of massages the Opove M3 Pro has 3 different speed level settings. It has 3,200 RPM revolutions or percussions per minute as a maximum speed, although it has variables to adjust lower speed by stepping down if needed from 2400 RPM to a lower 1800 RPM. It allows the user to adjust the speed level according to the parts of the body which need to relax. To treat the lactic acid stored muscles and before a workout warm-up the body you can go with a faster speed setting. But for relaxing muscles, slower speeds are best.
Brushless motor: Opove M3 pro has a 24V brushless high torque motor, so M3 Pro power is never an issue. Whether you need a high percussion massage or a slow relaxing one you will never feel like you are not receiving plenty of vibrations. The maximum speed of the Opove M3 motor is 3,200 PPM which is even higher than the Theragun's which has a maximum speed of 2400 PPM.It has much power to give deep tissue massage. Its motor is equipped to use battery power with optimization, so it does not run down readily during use.
Quiet Glide Technology: Besides its high motor of 24V high-torque its noise level is much lower and bearable because Opove makes according to Quiet Glide Technology to silence the motor. The Opove M3 Pro registers 55 decibels which are slightly above conversational noise at its noisiest position. It can be reduced to 35 decibels, which is perfectly quiet even to a sleeping family. Compared to most of the more expensive models it is most QUIET. It can be used at night without disturbing anyone's sleep at home by its stirring.
Shockproof outer shell: It has a nylon 66 and fibred glass shell which make it shockproof if it happens to drop from hand, this shell is made for its protection from damage. This shockproof outer shell massager can survive drops from up to 2 meters high, which serves as the best anti-drop measure everyone needs it. That is remarkable and very comforting.
Interchangeable applicators: It has four interchangeable massage attachments that are:
Fork Shaped: It is designed to apply pressure on the spine, neck, and Achilles.
Flat Shaped: It is designed for muscle-soothing massages that boost muscle flexibility
Pointed: It is designed for deep tissue massages and to target specific muscle groups, to enhance the massager's accuracy.
Ball Shaped: It is designed to massage bulk muscle groups like the muscles around your waist, back, gluteus, thighs, and arms.
These interchangeable heads are easy to attach and increase the massager's functionality considerably.
Lithium-ion battery: It comes with a lithium-ion battery so that handheld massagers can perform massages endlessly. It is quickly chargeable. takes about 3 hours to drain the battery. Its battery performance is remarkable.
OPOVE M3 Pro Massage Gun Pros:
Build-in great quality
Design is perfectly ergonomic
The motor is powerful with high-torque
Speed and force settings are Variable
To reduce noise levels considerably quiet Glide Technology is used which makes it actually one of the quietest massage guns in the market.
Rechargeable and long battery life of up to 3 hours.
Outer shell designed by anti-drop technology to make it safe from damage.
Avail be with four accessories and a beautiful carry case.
OPOVE M3 Pro Massage Gun Cons:
The Opove M3 Pro comes in a range of colors and versions to match your style the Opove M3 Pro comes in a variety of colors and versions, in addition to the camouflage model here, the device also comes in black, silver, and a muted cameo. As said by Opove the M3 Pro is designed ass to make it quieter to reduce noise than other massager guns. It has three hours of battery timing on a single time charge which gives long time usage. It has four changeable which give specific massage options by Opove M3 Pro which is not given by all other options devices. On the other hand, over 4,000 five-star reviewers on Amazon describes its demand and quality.
OPOVE M3 Pro Massage Gun Deep Tissue Percussion Muscle Massager Review
From my hands-on experience, the OPOVE M3 Pro Massage Gun delivers on its "Deep Tissue Percussion" promise. Having dabbled with multiple massage guns, I noticed right away that the OPOVE's punchy performance towers above many of its competitors. Here's why:
Product Pros & Their Interpretation:
Sleek Design with Functionality: Beyond its aesthetically pleasing design, the OPOVE features an intuitive interface. Its dual modes – automatic and manual – allow tailored massages, ensuring no knot goes untreated. In auto mode, it's fascinating how it adjusts pressure based on muscle tension. During my use, the gun seamlessly transitioned between varying pressures, making my massage session almost intuitive.
Battery Powerhouse: The inclusion of an AC charger emphasizes its long-lasting power capabilities. A significant leap from some battery-draining alternatives I've encountered.
Variety of Applicators: The five distinct applicators equip you for diverse muscle needs. My stiff neck found solace with the softer tip, while my aching calves screamed (in a good way!) under the firmer applicator. The snap-on, snap-off design? Absolute genius! I could easily switch between attachments without an instruction manual.
Pricing and Offers: The pricing feels like a steal, especially when equipped with discount codes. Not to forget, quality isn't compromised. Given the multitude of features and performance, it's premium quality at a fraction of the cost.
Technical Specifications: This is where the OPOVE M3 Pro stands apart. With a range of speed adjustments, it caters to both the massage aficionados and the rookies. Its performance metrics – from speed to applicator pressure adjustments – are bang on!
Solid Build for Athletes and Professionals: OPOVE hasn't just made a massager; they've crafted an athlete's companion. Its robust build and efficient functionality make it apt for professionals who demand more from their recovery tools.
In tracing its evolution, the OPOVE M3 Pro appears to have meticulously addressed the drawbacks of its predecessors. The advancements, particularly in battery and technical precision, highlight a commitment to improving user experience.
Comparatively, when stacked against its market counterparts, OPOVE's decision to emphasize user adaptability shines. Its unique design choices, especially the adaptive speed technology in the auto mode, elevates it a notch above the rest.
In conclusion, the OPOVE M3 Pro isn't just another massage gun; it's a massage experience.
| | | | | |
| --- | --- | --- | --- | --- |
| Feature Category | Quantitative Measurement | Qualitative Description | User Experience | Comparison to Competitors |
| Portability & Design | Weight: 2.2 pounds | Premium look with brushed metal finish | Easy to handle and carry | Lighter than many competitors |
| Performance | Strokes per minute: 3,200 | High-torque, brushless motor | Deep tissue massage capability | Faster than TheraGun's 2,400 PPM |
| Battery & Power | Battery life: 3 hours | Lithium-Ion, fast charging | Long sessions without interruptions | Longer than TheraGun's 150 minutes |
| Noise & Comfort | Noise level: 35-55 decibels | Quiet Glide Technology for reduced noise | Quiet, non-intrusive massage sessions | Quieter than many in the market |
| Accessories & Functionality | 4 interchangeable attachments | Fork, flat, pointed, ball shaped | Tailored massage for different muscle groups | More options than some competitors, but less than TheraGun's 5 |
Comparison – theragun vs opove m3
Features
TheraGun
Opove M3pro
Portable:
Easily portable with a free case
Easily portable with a free case
Budget:
199$
599$
High-Intensity:
Strokes per minute: 1,740 to 2,400

Stroke depth: 16 mm

Strokes per minute: 3200

Stroke depth: 12mm

For Beginners:
Best
Quite best
Battery Life
150 minutes 2 removable batteries
Lithium-Ion battery with 3 hours of usage between charges
High-Tech:
The OLED screen is present which displays the current PPM, a real-time force meter, and battery life.
At the back of the handheld, massager LED lights are present. The selected speed and battery life showed on the LED which makes it easier to adjust.
Stall force
60lbs
25lbs
Mostly suggested by physicians
Reviews revealed that Theragun mostly suggested by physicians
Reviews revealed that Opove quit less suggested by physicians
More Quite
70dB 68.5dB
only 35-55 decibels
Accessories

 

It has 5 attachments, a beautiful moulded case and a power cord.
Charger,4 massage attachments, free carry case included
Weight
3.1 pounds
2.2 pounds (pretty light and easy to handle – definitely as good as any other in this respect)
Speed
Modes: variable speed 5 different levels)
Modes: variable speed (3 different levels)
Dimension
10.4 in x 7.9 in x 2.8 in 10.4 in x 7.9 in x 2.8 inches
15.6 x 9.1 x 3.5 inches
Warranty
2       years
1 year