Wahl Deep Tissue Percussion Massager Review 2021
Last Updated on October 11, 2023 by Emily
What Is The Wahl Therapeutic Massager?
The Wahl Therapeutic Massager is a powerful handheld device designed to provide deep tissue massage and relief from muscle pain, fatigue, and tension. It's a versatile tool that can effectively target various muscle groups, promoting relaxation and comfort.
Where Can You Use The Wahl Therapeutic Massager?
This massager can be used on multiple body areas, including the neck, upper and lower back, hips, thighs, arms, and legs. Its portability and ergonomic design make it easy to reach even those hard-to-access spots, ensuring a comprehensive body massage experience.
Who Is The Wahl Therapeutic Massager Designed For?
The Wahl Therapeutic Massager is suitable for anyone seeking relief from muscle soreness, stiffness, chronic pain, or stress. It's an excellent choice for individuals dealing with sports injuries, arthritis, muscle knots, and those looking to improve flexibility and circulation. Whether you're an athlete, office worker, or anyone in between, this massager can benefit you.
The Benefits of Using A Wahl Therapeutic Massager
Pain Relief: The massager's powerful motor generates up to 4000 percussions per minute, providing intense deep tissue massage to alleviate pain and discomfort.
Improved Circulation: Regular use can help boost circulation, reducing inflammation and promoting muscle recovery.
Versatile Massage Nodes: With four interchangeable massage nodes, you can customize your massage experience to suit your preferences and target specific areas.
Quiet Operation: The Wahl Therapeutic Massager operates quietly, allowing you to enjoy a massage without disturbing your surroundings.
Summary of Benefits
In summary, the Wahl Therapeutic Massager offers an array of benefits, including pain relief, enhanced circulation, versatility, and quiet operation. It's a user-friendly tool designed to improve overall well-being.
The Pros Of The Wahl Therapeutic Massager
Let's highlight some of the key advantages of this massager:
Summary Of The Pros:
Portability and ease of use.
Variable speed intensity for customized massages.
Long power cord for flexibility.
Lightweight and durable design.
Quiet operation (40-60 decibels at highest speed).
Comes with a 2-year warranty for peace of mind.
The Cons Of The Wahl Therapeutic Massager
Now, let's consider some of the limitations:
Summary Of Cons:
Corded design may limit mobility.
Maximum percussions per minute (4000) may not be sufficient for those seeking very high-intensity massages.
How Often Should The Wahl Therapeutic Massager Be Used?
The frequency of use depends on your individual needs and preferences. It can be used as often as required to alleviate muscle pain and tension. Many users find benefit in incorporating it into their daily or weekly self-care routine.
Who Shouldn't Use The Wahl Therapeutic Massager?
While the Wahl Therapeutic Massager is generally safe for most individuals, it may not be suitable for those with specific medical conditions or sensitivities. It's advisable to consult with a healthcare professional before use if you have concerns about its suitability for your situation.
Our View And Recommendations
In our view, the Wahl Therapeutic Massager is an affordable and effective solution for addressing muscle pain, fatigue, and tension. Its ergonomic design, variable speed settings, and versatile massage nodes make it a valuable addition to your wellness toolkit. While it may not provide the highest intensity massage available, it's well-suited for those seeking a comfortable and customizable massage experience. However, individuals with specific medical conditions should consult a healthcare provider before use. Overall, this massager offers excellent value for its price and can contribute to improved well-being and relaxation.
Wahl Hand Held Massager
It is one of the top-rated deep tissue massagers in the market. This handheld massager reduces your muscle pain, fatigue from joints, sports injuries, arthritis, muscle knots, stress, and also improves flexibility.
This percussion massager cannot be used for face, head parts of your body. There is a reason behind it that a percussion massage is meant to be a strong message as the massager node hits your skin, entering deep into your muscles and tissues to give you relief and comfort.
This deep tissue massager is much cheaper but is enough effective. Its price does not affect its performance.
If you don't have to read the full review then you can check this short quick overview.
You can get benefit from this therapeutic massager by using it on the neck, upper and lower back hips, thighs, arms, and legs. It means it gives you an entire body massage.
Most importantly, it helps in the promotion of circulation, reducing inflammation, muscle soreness, stiffness, chronic pain, and solving the disease of fibromyalgia. It has healing power as well.
It may also help in decreasing inflammation and increasing oxytocin levels which results to relax your muscles.
Motor
It comes with a powerful motor and is considered as one of the most powerful massagers in the market. It provides a large amount of displacement, or distance traveled back and forth. This is what gives you intense deep tissue massage.
It allows you to massage your entire body. It generates 4000 percussions per minute at its highest speed. Its minimum percussion number is 2000 per minute.
Speed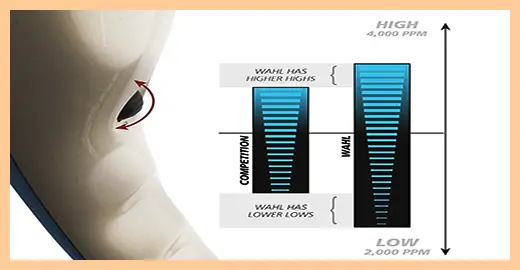 It has variable speed intensity. You can change its speed intensity. It gives you both a rough massage and a gentle massage. Through its variable speed, it reduces pain & fatigue from joints, sports injuries, arthritis, muscle knots, stress, and improves flexibility.
Varying speed setting allows you to enjoy a comfy massage. You can set its speed at your favorite intensity level.
Battery life
For having a great massage you need a long-life battery that can power the motor. It is a corded massager is also nice because it has the power for a deep/powerful massage.
It is a corded massager. It comes with a long 8-foot power cable. Its long length gives you greater flexibility during usage. This long power cord delivers constant massage power to your muscles. Its voltage is 120V/60Hz.
Massage nodes
This therapeutic massager comes with four interchangeable massage nodes. Its heads include deep muscle attachment, four-finger flex attachment, acupoint attachment, and raised bump attachment.
These heads are worked with a winding lock instrument that verifies them set up during use. To change out, essentially untwist the connection head. The profound muscle head pounds easily making a profound tissue knead.
Design 
It has a compact design. It has an ergonomic design that gives you full body massage with comfort and ease. It has a sleek and ergonomic handle which allows you to do massage of hard-to-reach areas. Its dimension is 6.5 x 16 x 10.9 inches.
Very quiet
If you want a quiet massager then this massager is for you. It very quiet massager. You can watch TV when your massage is going on because it does not make noise.
It produces noise like a normal conversation. It creates 40-60 decibels at its highest speed. You will not be bothered by its motor sound.
Warranty
It comes with 2 years warranty. The product out of warranty will be repaired at the company's standard repair charges. If it does not work satisfactorily within the warranty period, Wahl will repair or replace and will return it without any charges.
It comes with instruction. That instruction book is in English and Spanish. It is for the purpose that you should use the item carefully.
[i2pc pros_icon="icon icon-check-1″ cons_icon="icon icon-check-1″ show_title="false" title="Pros & Cons" show_button="false" pros_title="Features" cons_title="Specifications" ][i2pros]Portable and easy to use
Variable intensity levels
Long power cord
Lightweight and durable[/i2pros][i2cons]Power: corded
Weight: 1.6 pounds
Percussions per minute: 3350
Attachments: 4
Warranty: 2 Years[/i2cons][/i2pc]
Usage of Wahl Deep Tissue Percussion Therapeutic Massager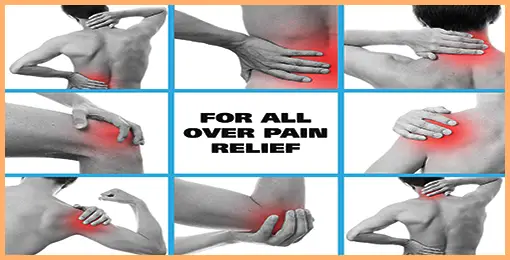 This handheld massager comes with massage nodes. They provide the right levels of massage when there are sore muscles in your body that need some kind of help. Its flat disc node provides a general deep tissue massage.
The deep muscle node is lovely because it provides percussion action, while the four-finger flex is good for a touch massage. The tension you have got will fade away quickly through its Accu point node because it targets a concentrated area.
Its weight will not disturb you during a massage because an average person can easily do full massage by his/her arm. Its compact design gives you complete body massage therapy.
If you are a heavy massage liker, it would not give you a high-level intense massage because it gives medium massage. It is good for entry-level massage likers.
TheraGun G3Pro percussive therapy device gives you quick pain relief, fast recovery, and muscle activation. It consists of a powerful professional-grade flagship device.
Both of them are used for pain relief and for gaining comfort as well as Both massagers have a lot of differences like earth and sky. A brief comparison is added below:
Massager Type: TheraGun is a massage gun while Wahl is a handheld massage tool.
Usage: Wahl handheld massager is a deep tissue percussion massager it helps in muscle stiffness, chronic pains and blood circulation improvements. It is considered best for release pain in the neck, upper back, lower back and leg pressure points. It is best for use at home. While on the other hand, Theragun G3 Pro is a percussion therapeutic massage gun. You can get quick muscle stimulation and fast recovery by using it. It is considered a powerful professional massage gun. Most athletes, experienced therapists, and celebrities use it to massage the entire body.
The main difference is Whale deep tissue massager is a handheld massager, while Theragun G3 pro is a premium massage gun.
Wahl Deep tissue massager is corded while Theragun is a cordless massager
Attachments: Wahl deep tissue massager has four massage attachments Flat discs, 4-finger flex, acupoint head, and a ball-shaped head, while Theragun G3 pro comes with six different massage extensions.

These interchangeable heads help to give you different massage experiences at your desired speed level.

Batteries: Theragun G3 Pro has two interchangeable batteries, while Wahl deep tissue massager has a nine-fit long power cable.
Intensity Settings: Wahl deep tissue massager has four intensity settings, two speed settings, and two vibration settings, but Theragun G3 pro has only two massage speeds.
Wahl is lightweight but TheraGun is a little bit heavier than it

. 
Read More About TheraGun G3 Pro and its Alternative (Great Massage Guns For Athlete)
Our Verdict
TheraGun and Wahl both are made to give you quick pain relief and a comfy massage. TheraGun is mostly used by athletes because it gives heavy massage after a long-day workout. If we compare these two massagers with each other, so Wahl is better in so many cases for you.
Purewave does a wonderful job and manages your pain. It helps in bringing separation in scar tissue, increase stream, extricate up muscles and speed recovery.
Purewave and Wahl go hand by hand. Both massagers are good for removing knots in muscles, pain relief, sports injury and for so many other things. They both give you a comfortable massage.They both have some differences, as well. A brief comparison is added below
The main difference between them is cord and cordless design. Purewave is cordless while Wahl is the cord.
Both are lightweight massagers and have ergonomic designs for entire body massage.
Purewave comes with 5 interchangeable massage heads, however, Wahl comes with 4 interchangeable massage heads. Their powerful motors give you relax you in a couple of minutes with great comfort.
In the comparison of Whal and Purwave, they are equally good massagers. Both are useful for sports injuries, in reducing muscle knots, and so many other issues. Purewave is best for deep tissue massage.
Our Verdict
If you are in search of powerful massage then both Purewave and Wahl are suitable for you. Purewave is more suitable than WAHL for having deep tissue massage. It helps to reduce pain from joints, shoulders, legs, arms, and back.
Which one should I choose: Purewave or TheraGun?
Don't you like Wahl deep tissue percussion massager? Are you confused about whether to choose Purewave or TheraGun? If your answer is 'Yes,' then you are in the right place. Here we are going to clarify this problem in this review.
Purewave and TheraGun both are handheld percussion massagers. Their sole purpose is to bring ease in your life; they give you comfort from chronic pain and relax you after a long-day workout.
If we compare these two massagers, Purewave is better than TheraGun at every aspect of massage. Purewave also comes with a decent price and with an effective massage. Its high-quality motor reduces muscle pain in a couple of minutes and makes you an active member of society.
Wahl Massager
Purewave CM-07
TheraGun G3 Pro

Attachments/Massage Nodes
4 (Flat disc, finger flex, Roundball,
acupoint )
6
6
Speed
4 massage settings (Up to 3350 PPM)
Various intensity levels
2
Battery life
N/A (No Battery)
3 Hours
75 Mints
Power type
Corded
Cordless
Cordless
Weight
1.6 pounds
1.7 pounds
2.9 pounds
Dimensions
6.5 x 16 x 10.9 inches
16.5 x 2.8 x 3.5 inches
10 x 2.5 x 8 inches
Design For
Neck, Back Massage
Neck, Back Massage
Muscle Massage
Warranty
2 years
1 year
2 years
Massage type
Deep tissue
Percussion massager
Deep tissue
Percussion massager
Treatment level
Pro-level treatment
Designed to massage
Neck, back, legs
Neck,
back,legs
Muscles
Price
Wrap Up
Wahl deep tissue percussion is an affordable tool for the perfect massage. Its lightweight and compact design give you an entire body massage. Its percussions deeply penetrate your muscles and give you pain relief.
Overall, it is a great handheld device that gives you comfort and performs its job well. There are some flaws I listed as well in the review, but those flaws are not of high measurable flaws. If you are interested in this device, you can easily get it from Amazon through the given link.