PUREWAVE vs THERAGUN G3 PRO (Choose The Best)
Last Updated on October 12, 2023 by Emily
PUREWAVE by Pado CM-07 Dual Motor Percussion and Vibration Therapy Massager
If you want an exceptional massage tool, meet the PUREWAVE CM-07. This cordless massager is not like typical gadgets. It's a game-changer in the world of personal massage devices.
Key Features:
Dual Motor Design: The PUREWAVE CM-07 is equipped with both a percussion and a vibration motor, delivering a diverse massage experience unlike any other.
Customizable Intensity: With its variable speed controller, users can tailor the intensity of the massage according to their preferences, ranging from gentle to robust.
Versatile Attachments: The device boasts six unique attachment heads, allowing for a range of treatments. This includes:

Point stick for targeted therapy.
Six-head stick for deep tissue massages.
Massage oil stick.
Facial stick for skin rejuvenation and application of creams/lotions.

Facial Massage Capability: The Facial stick, specifically designed for use with the vibration motor, offers an easy method for applying facial products while benefiting from gentle micro-vibrations, enhancing skin care routines.
Long-lasting Battery: The built-in rechargeable battery is both durable and efficient. A one-hour charge can power up to 20 minutes of daily massages for an entire week.
Cordless Design: For ease of use and mobility, the PUREWAVE CM-07 is cordless, making it convenient for massages anywhere, anytime.
User-friendly: While feature-rich, the design is intuitive, enabling even first-time users to navigate its functionalities seamlessly.
Ergonomic Design: Crafted to fit comfortably in hand, the device is easy to maneuver, ensuring a thorough massage across different body areas.
Long Battery Life: A significant advantage for those who dislike frequent charging, the device's battery life is impressive, lasting up to 90 minutes on a full charge.
Lightweight: Weighing approximately 1.75 lbs (or 0.8 kg), it's easy to handle and maneuver for extended periods.
Pros:
Dual Motor Marvel: The standout feature of the PUREWAVE CM-07 is its dual-motor design. It boasts both a percussion motor and a vibration motor, offering a one-of-a-kind massage experience. The percussion motor delivers a satisfying hammering motion, while the vibration motor provides a unique sensation. This combination sets it apart from single-motor competitors.
Tailored Intensity: Personalization is key in massage therapy, and the CM-07 gets it right. The variable speed controller allows you to fine-tune the intensity to your liking. Whether you crave a gentle massage or something more robust, you're in control.
Versatile Attachments: The CM-07 comes with six standard attachments, each serving a specific purpose. The threaded attachments, including the Point stick for targeted therapy and the Six-head stick for deep tissue massages, offer flexibility in your treatments. The slip-on attachments, such as the Massage oil stick and the Facial stick, expand your options. It's like having a personal masseuse with an array of techniques at your disposal.
Unique Facial Massage: The CM-07's Facial stick, designed for use with the vibration motor, is a standout feature. It's perfect for applying facial creams and lotions, rejuvenating your skin with gentle micro-vibrations. A little self-care has never been this easy.
Long-lasting Battery: No one likes their massage interrupted by a dead battery. The CM-07's built-in rechargeable battery lasts impressively long. A mere one-hour recharge gets you up to 20 minutes of daily massage for a full week.
Cons (But Not Really):
Complexity for Beginners: While the CM-07's versatility is a plus, it may seem a tad overwhelming for first-time users. Navigating through six different attachments and two motors might take some getting used to. However, it's a minor hurdle that can be quickly overcome with a bit of experimentation.
The PUREWAVE CM-07 is a massage therapy powerhouse. Its dual-motor design, personalized intensity, and range of attachments make it a standout choice. Sure, it may require a bit of a learning curve for newcomers, but the payoff is well worth it. Say goodbye to stress and muscle tension; the CM-07 is here to make your worries ripple away.
If you're in the market for a massage device that offers more than the standard fare, the PUREWAVE CM-07 is your ticket to relaxation nirvana. Don't miss out—check it out further at [website link]. Your muscles will thank you.
| | | |
| --- | --- | --- |
| Feature | PUREWAVE CM-07 | Single-Motor Competitors |
| Motor Type | Dual Motors (Percussion & Vibration) | Single Motor |
| Customizable Intensity | Yes, with Variable Speed Controller | Limited Speed Options |
| Attachments Included | Six Attachments for Versatile Use | Fewer Attachment Options |
| Facial Massage | Yes, with Unique Facial Stick | Usually Not Included |
| Battery Life | Long-lasting with 20-minute daily use for a week | Varies by Model |
| | | |
Theragun G3PRO Percussive Therapy Device, Handheld Deep Tissue Professional Massager
Looking for a game-changer in muscle recovery? Meet the [Theragun G3PRO], a handheld deep tissue professional massager that's rewriting the rules of self-care. After putting this powerhouse to the test, I'm convinced it's a game-changer.
Key Features:
Deep Tissue Relief: Provides intense percussive therapy that penetrates deep into muscles, offering temporary relaxation and instant relief from tension.
Ergonomic Design: Crafted with multiple gripping areas and an adjustable arm for easy targeting of various muscle groups, ensuring maximum comfort during usage.
Customizable Attachments: Comes equipped with a range of versatile attachment heads, each designed to address specific muscle areas, allowing for tailored treatment experiences.
Two Intensity Levels: Users can select from two different intensity settings, catering to individual comfort levels and treatment requirements.
Battery Life: Features a removable battery design, with each charge supporting prolonged usage, reducing frequent recharging hassles.
Adjustable Massage Angle: The massager's arm can be adjusted to different angles, facilitating ease of access to hard-to-reach areas.
High Amplitude: Boasts a 16-millimeter amplitude, ensuring the massage therapy reaches deep muscle layers.
Speed Variation: Delivers between 1,740 to 2,400 percussions per minute, allowing users to choose the rhythm of their therapy.
Stall Force: Exhibits a stall force of 60 pounds, enabling users to apply substantial pressure during massages without stalling the device.
Protective Travel Case: Accompanied by a durable case that securely holds the device, batteries, attachments, and charging cord, making it travel-friendly.
Durable Construction: Built to withstand rigorous use, making it apt for professionals, athletes, and everyday users alike.
Pros:
1. Unparalleled Deep Tissue Relief: The [Theragun G3PRO] delivers a percussive massage like no other. It doesn't just feel good on the skin; it goes deep into your muscles, temporarily relaxing tension, and providing instant relief. This isn't your average surface-level massage; it's therapy in the depth.
2. Ergonomic Design: Dr. Jason, the chiropractor behind this innovation, clearly knew what he was doing. The ergonomic design allows you to target various muscle groups with ease. The multiple gripping areas and adjustable arm make it effortless to reach those hard-to-get spots. Trust me; you'll be grateful after a tough workout.
3. Customizable Attachments: The [Theragun G3PRO] comes with a versatile set of attachments, each tailored for specific muscle areas. Whether you're treating your quads, IT band, or even your feet, there's an attachment for it. You can pinpoint muscle treatment or go for broad strokes; it's all up to you.
4. Intuitive Usage: No need to be a massage expert to use this device. It's incredibly intuitive. Simply point it at your problem area, choose from two intensity levels, and let it work its magic. The free downloadable app provides guidance, but honestly, you'll find it instinctive.
5. Versatile Application: While athletes and fitness enthusiasts can benefit greatly from the [Theragun G3PRO], it's not limited to them. Everyone has that one troublesome spot that can use some TLC. Whether you're an Ironman or an office worker, this device caters to your relief needs.
Cons:
1. Price Tag: Okay, let's address the elephant in the room—the price. At $599, the [Theragun G3PRO] isn't exactly a budget buy. However, when you compare it to frequent massage therapy sessions or other high-end massagers, the investment starts to make sense. Consider it an investment in your well-being.
2. Temporary Relief: It's important to remember that the [Theragun G3PRO] provides temporary relief. While it's highly effective at relaxing muscles and increasing blood flow, it won't magically cure all your aches and pains. For long-term results, combine it with other self-care practices.
In a world flooded with massage devices, the [Theragun G3PRO] stands out as a top-tier choice for deep tissue therapy. Its unmatched ability to reach muscle depths and relieve tension sets it apart from the competition. While the price may seem steep, the investment in your well-being and recovery is worth every penny. Say goodbye to surface-level massages and hello to therapeutic depth with the [Theragun G3PRO]. Check it out further; your muscles will thank you!
| | |
| --- | --- |
| Feature | [Theragun G3PRO] |
| Deep Tissue Relief | Unparalleled |
| Design | Ergonomic |
| Customizable Attachments | Versatile |
| Ease of Use | Intuitive |
| Application Range | Versatile |
| Price | High |
| Relief Duration | Temporary |
PUREWAVE vs THERAGUN G3 PRO
As we know that most people need a massage in their homes. There are certain reasons behind home massage. It can be a schedule of the masseur, can be a money problem, and can be other different reasons. One of the main reasons is the rise of handheld massagers in today's world is that it made things very much easy for the people. If you are looking for a deep comparison of the two most popular massagers: the Purewave CM-07 and the TheraGun G3 Pro then you are on the right page.
This post will help you in making a much clear decision when choosing and buying a massager between them and you will also come to know which type of massager suits you the most. Before going into deep discussion, I just want to point out that both Purewave and TheraGun are great handheld massagers among the top-rated massagers available in the market.
When you feel so tired and muscles are pulled then you can try just one touch Purevave can you feel relaxed and cool? It is simple and easy to use, for the neck and shoulder. It is best for chronic pain and improves blood circulation. It will provide you with energy work. Now-a- days every therapist and chiropractor recommended Purevave or Theragun G3 PRO. So now customer finds it difficult to choose which one is best. So here is one analysis of two products.
Purevave is a Dual-mode massager little vibrator motor with 6 massage sticks for different body areas. It will relax, remove muscular tension, knots, spasm and body aches and refresh your body. One can use it without the help of others. It is a customized massage device. It is controlled by various functions. Its battery life is perfect. It has the best grip for handling during the massage.
Theragun G3 PRO is the current version of the massager and it contains 6 attachments to target your needs Large Ball, Standard Ball, Wedge, Thumb, and Cone. It is easily adjustable arms, Swappable Batteries, and a travel case. Its max force is 60 LBS and its speed is 40 Percussions per second. It relieves muscles tension, accelerates warm-up & recovery, and increases performance.
In general, both of them have tons of positive reviews on social media, forums and e-commerce platforms like Amazon because people are very positive about them. But if we go in a deep comparison, both of them are totally different products with different features. To know the differences between them read this article till the end.
You can use it for better movement in a better life you can use it. Both products comparisons table for which device is best. Here is just a small comparison to start with.
Description
Purevave       
Theragun G3 PRO
Batteries
7.2 V and 2.2 Ah
12V 2.5 Ah
Battery timing     
90 Minutes
Minutes
Weight       
1.75 lbs / 0.8 kg
3.1 lbs /1.3 kg.
Price           
117.95$
449$

 

Rating and review in Amazon
5558
726
Answer question
355
73
Charger     
yes
yes
Brand
Pado
Theragun
Material
Plastic
Plastic
Vibrations therapy         
Yes
Yes
Color
White
Black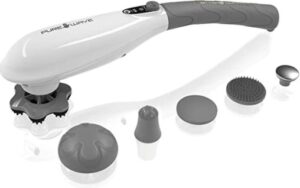 If you don't have Time to Read Full Comparison and you need the best one between them then we recommend you to go for PUREWAVE CM 07.
List of Major Things of Both Massagers that We are Going to Compare Between them.
Let me compare the above-given points one by one in detail.
Amplitude
What amplitude is when it comes to percussion massagers is the distance that the massage head is going to move away from the device. So with the TheraGun, you are going to have an amplitude of about 16 millimeters while the Purewave you are going to be closer to 3 to 4 millimeters.
That makes a huge difference when you look at how far and how powerful that massage is going to be. So with the purewave, you will get a much more vibrational type massage versus the TheraGun.
Speed
The other big difference between the two is speed. TheraGun is a multi-speed device. It gives one thousand seven hundred and forty percussions per minute. The high end is going to be two thousand four hundred percussions per minute.
Purewave which is a variable speed. It has a dial that you can spin and adjust at any different speed range. It gives 1500 percussions per minute. Its highest speed is three thousand seven hundred percussions per minute.
It means that Purewave is more powerful than TheraGun. If a person wants to have a more powerful massage for himself/herself then Purewave is a good massage tool.
Battery Life
Both devices have Lithium-ion batteries. The TheraGun comes with a removable battery. It just pops off the bottom side of it and this battery is going to last for 75 minutes. It depends on how often and what speed you are using it at.
It also comes with a second battery, so you can always have a charged battery.
Purewave, on the other hand, has a built-in battery. Its battery lasts around three hours before it needs to be recharged. But once it gets to that point, it needs to do a full charge before it can be used again.
We can say that Purewave gives us a good battery life. You can have a full body massage in three consecutive hours which is a big time.
Stall Force
In addition to the amplitude is the stall force which is also significantly different. Stall force is the amount of pressure you can apply to the area before the motor stalls out.
The TheraGun is certainly designed to be a much more aggressive tool.
This is the G3 Pro, so it is designed for professional use either with a chiropractor or a physical therapist or you know an elite level athlete. So it is designed to do much more aggressive massage but the stall force on this device is going to be sixty pounds.
You can really push hard on whatever area that you're massaging before that motors going to even stall out.
Purewave is closer around thirty-five to forty pounds before that motors going to stall up. So if you do start to get aggressive in any one area with it there's a good chance that the motor is just going to stop and you're going to have to restart your device
Noise Level
The TheraGun which you can pop the battery right in terms of noise levels is again at the low speed. With the TheraGun you are going to be around sixty-eight decibels. On the high end, you will be at 75 decibels.
With the Purewave, you are going to be in the range of 45 to 70 decibels. The Purewave is going to be a little bit quieter than TheraGun.
So both the devices, you can use them in a public setting. If you are a silence addict, then in this regard, Purewave is a good handheld massager for you. It is quite as compared to the TheraGun.
Attachment Heads
Both devices come with six different attachment heads. There is quite a bit of a difference between the attachment heads. Purewave comes with five different attachments that go on to the main massaging and you have one facial massager.
TheraGun comes with six different attachments that pop on and off just from the device here. It is designed for more aggressive massages. While the Purewave is designed for more general massages.
So a lot of the different attachments with the TheraGun are going to come become narrow or to a point. Whereas a lot of them with the Purewave are going to be broader and addressed larger areas at a time.
Massage Angle
The Purewave is not adjustable so you have one fixed angle. The TheraGun has four different angles that you can massage with just by adjusting the attachment shaft.
It does allow you a little bit more versatility on the areas that you are trying to massage and the hard-to-reach spots like behind your back and behind your legs.
When you are looking for a massager which is suitable for hard-to-reach areas, TheraGun is a good massager which can reach to far areas of your body.
Weight
The weight of the two devices you are looking at is different. When it comes to weight, Purewave is lighter than TheraGun.
TheraGun is double the weight of the Purewave. Purewave is about 1.75 pounds while TheraGun is around 3.1 pounds.
Weight matters a lot when you want to have a massage of hard-to-reach areas. Another major problem which a heavy massager creates is that you cannot hold it easily for a long time.
Protective Travel Case
Most of the tools come with travel case because people demand them. People travel from one place to another and when want to have their massager with themselves, they need a travel case.
The TheraGun comes with a protective travel case that you can travel with both batteries, all your attachment heads, the device, and the charging cord.
The Purewave does not come with a case. It comes with a small drawstring travel pouch. Everything does fit inside, but this pouch will not give the surety of its safety. The parts can be broken during traveling.
Handle Design
We want to have a massager that can give us complete massage from head to toe and from back to front. For this type of massage, we need a massager that has an ergonomic handle.
Both Purewave and TheraGun have ergonomic handles. Both of them give a complete massage from head to toe to your body.
There is a slight difference between these two ergonomic handles. The difference is that Purewave gives back massage to you while TheraGun does not do so. TheraGun's multi-grip handle is designed for comfortable use from any angle with zero percent stress on your hands and wrists.
Comparison Table
| | | |
| --- | --- | --- |
| Feature | PUREWAVE CM-07 | Theragun G3 PRO |
| Motor Type | Dual Motors (Percussion & Vibration) | Single Percussion Motor |
| Amplitude (Depth of Muscle Penetration) | 3-4 millimeters | 16 millimeters |
| Speed (Percussions per Minute) | 1500 to 3700 | 1740 to 2400 |
| Design & Usability | Fixed angle with ergonomic handle, Facial stick for creams | Adjustable arm with ergonomic design |
| Attachment Heads | Six Attachments (Including unique Facial Stick) | Six Attachments |
| Battery Life | Up to 180 minutes (3 hours) | 75 minutes per battery (2 batteries included) |
| Stall Force (Pressure Before Stalling) | 35-40 pounds | 60 pounds |
| Noise Level | 45 to 70 decibels | 68 to 75 decibels |
| Travel Case | Drawstring pouch | Protective travel case |
| Price Point | $117.95 | $449 |
| Weight | 1.75 lbs / 0.8 kg | 3.1 lbs /1.3 kg |
| Ergonomic Handle Design | Yes, best for back massage | Yes, with a multi-grip for any angle |
Conclusion
After doing the detailed comparison, we have come to the conclusion that Purewave is a handheld massager that gives all the features that other massagers have.
If a person wants to have a good and whole-body massage, so there is no better option for him/her to opt for the Purewave handheld massager.
Purevave device is much better and economic price but Theragun G3 PRO is more expensive. So I highly recommended Purevave
With Theragun, if you're willing to invest in it, it would be much better to invest in the G3Pro. It is an incredible upgrade of the G2 pro model.
FAQs
Who can benefit from using the Theragun G3PRO?
The [Theragun G3PRO] is versatile and can benefit athletes, fitness enthusiasts, and even those with everyday aches and pains. Anyone looking for deep tissue relief can find value in this device.
Is the Theragun G3PRO easy to use for someone without massage experience?
Yes, the [Theragun G3PRO] is designed to be intuitive. Simply point it at the desired muscle area, choose from two intensity levels, and it does the rest. It also comes with a free downloadable app for guidance.
What is the battery life of the PUREWAVE CM-07?
The built-in rechargeable battery offers impressive longevity. A one-hour recharge provides up to 20 minutes of daily massage for a full week.
How many attachment heads does the PUREWAVE CM-07 come with?
The PUREWAVE CM-07 comes with six versatile attachment heads, including a unique Facial stick.
How does the speed of the PUREWAVE CM-07 compare to the Theragun G3 PRO?
The PUREWAVE CM-07 offers a variable speed ranging from 1500 to 3700 percussions per minute. In contrast, the Theragun G3 PRO delivers between 1740 to 2400 percussions per minute.
What sets the PUREWAVE CM-07 apart from other massagers?
The PUREWAVE CM-07 boasts a unique dual motor design, offering both percussion and vibration massage experiences.