PUREWAVE vs THERAGUN G3 PRO (Choose The Best)
As we know that most people need a massage in their homes. There are certain reasons behind home massage. It can be a schedule of the masseur, can be a money problem, and can be other different reasons. One of the main reasons is the rise of handheld massagers in today's world is that it made things very much easy for the people. If you are looking for a deep comparison of the two most popular massagers: the Purewave CM-07 and the TheraGun G3 Pro then you are on the right page.
This post will help you in making a much clear decision when choosing and buying a massager between them and you will also come to know which type of massager suits you the most. Before going into deep discussion, I just want to point out that both Purewave and TheraGun are great handheld massagers among the top-rated massagers available in the market.
When you feel so tired and muscles are pulled then you can try just one touch Purevave can you feel relaxed and cool? It is simple and easy to use, for the neck and shoulder. It is best for chronic pain and improves blood circulation. It will provide you with energy work. Now-a- days every therapist and chiropractor recommended Purevave or Theragun G3 PRO. So now customer finds it difficult to choose which one is best. So here is one analysis of two products.
Purevave is a Dual-mode massager little vibrator motor with 6 massage sticks for different body areas. It will relax, remove muscular tension, knots, spasm and body aches and refresh your body. One can use it without the help of others. It is a customized massage device. It is controlled by various functions. Its battery life is perfect. It has the best grip for handling during the massage.
Theragun G3 PRO is the current version of the massager and it contains 6 attachments to target your needs Large Ball, Standard Ball, Wedge, Thumb, and Cone. It is easily adjustable arms, Swappable Batteries, and a travel case. Its max force is 60 LBS and its speed is 40 Percussions per second. It relieves muscles tension, accelerates warm-up & recovery, and increases performance.
In general, both of them have tons of positive reviews on social media, forums and e-commerce platforms like Amazon because people are very positive about them. But if we go in a deep comparison, both of them are totally different products with different features. To know the differences between them read this article till the end.
You can use it for better movement in a better life you can use it. Both products comparisons table for which device is best. Here is just a small comparison to start with.
Description
Purevave       
Theragun G3 PRO
Batteries
7.2 V and 2.2 Ah
12V 2.5 Ah
Battery timing     
90 Minutes
Minutes
Weight       
1.75 lbs / 0.8 kg
3.1 lbs /1.3 kg.
Price           
117.95$
449$

 

Rating and review in Amazon
5558
726
Answer question
355
73
Charger     
yes
yes
Brand
Pado
Theragun
Material
Plastic
Plastic
Vibrations therapy         
Yes
Yes
Color
White
Black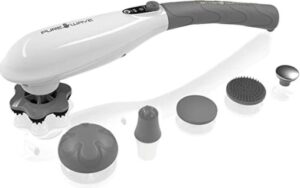 If you don't have Time to Read Full Comparison and you need the best one between them then we recommend you to go for PUREWAVE CM 07.
List of Major Things of Both Massagers that We are Going to Compare Between them.
Let me compare the above-given points one by one in detail.
Amplitude
What amplitude is when it comes to percussion massagers is the distance that the massage head is going to move away from the device. So with the TheraGun, you are going to have an amplitude of about 16 millimeters while the Purewave you are going to be closer to 3 to 4 millimeters.
That makes a huge difference when you look at how far and how powerful that massage is going to be. So with the purewave, you will get a much more vibrational type massage versus the TheraGun.
Speed
The other big difference between the two is speed. TheraGun is a multi-speed device. It gives one thousand seven hundred and forty percussions per minute. The high end is going to be two thousand four hundred percussions per minute.
Purewave which is a variable speed. It has a dial that you can spin and adjust at any different speed range. It gives 1500 percussions per minute. Its highest speed is three thousand seven hundred percussions per minute.
It means that Purewave is more powerful than TheraGun. If a person wants to have a more powerful massage for himself/herself then Purewave is a good massage tool.
Battery Life
Both devices have Lithium-ion batteries. The TheraGun comes with a removable battery. It just pops off the bottom side of it and this battery is going to last for 75 minutes. It depends on how often and what speed you are using it at.
It also comes with a second battery, so you can always have a charged battery.
Purewave, on the other hand, has a built-in battery. Its battery lasts around three hours before it needs to be recharged. But once it gets to that point, it needs to do a full charge before it can be used again.
We can say that Purewave gives us a good battery life. You can have a full body massage in three consecutive hours which is a big time.
Stall Force
In addition to the amplitude is the stall force which is also significantly different. Stall force is the amount of pressure you can apply to the area before the motor stalls out.
The TheraGun is certainly designed to be a much more aggressive tool.
This is the G3 Pro, so it is designed for professional use either with a chiropractor or a physical therapist or you know an elite level athlete. So it is designed to do much more aggressive massage but the stall force on this device is going to be sixty pounds.
You can really push hard on whatever area that you're massaging before that motors going to even stall out.
Purewave is closer around thirty-five to forty pounds before that motors going to stall up. So if you do start to get aggressive in any one area with it there's a good chance that the motor is just going to stop and you're going to have to restart your device
Noise Level
The TheraGun which you can pop the battery right in terms of noise levels is again at the low speed. With the TheraGun you are going to be around sixty-eight decibels. On the high end, you will be at 75 decibels.
With the Purewave, you are going to be in the range of 45 to 70 decibels. The Purewave is going to be a little bit quieter than TheraGun.
So both the devices, you can use them in a public setting. If you are a silence addict, then in this regard, Purewave is a good handheld massager for you. It is quite as compared to the TheraGun.
Attachment Heads
Both devices come with six different attachment heads. There is quite a bit of a difference between the attachment heads. Purewave comes with five different attachments that go on to the main massaging and you have one facial massager.
TheraGun comes with six different attachments that pop on and off just from the device here. It is designed for more aggressive massages. While the Purewave is designed for more general massages.
So a lot of the different attachments with the TheraGun are going to come become narrow or to a point. Whereas a lot of them with the Purewave are going to be broader and addressed larger areas at a time.
Massage Angle
The Purewave is not adjustable so you have one fixed angle. The TheraGun has four different angles that you can massage with just by adjusting the attachment shaft.
It does allow you a little bit more versatility on the areas that you are trying to massage and the hard-to-reach spots like behind your back and behind your legs.
When you are looking for a massager which is suitable for hard-to-reach areas, TheraGun is a good massager which can reach to far areas of your body.
Weight
The weight of the two devices you are looking at is different. When it comes to weight, Purewave is lighter than TheraGun.
TheraGun is double the weight of the Purewave. Purewave is about 1.75 pounds while TheraGun is around 3.1 pounds.
Weight matters a lot when you want to have a massage of hard-to-reach areas. Another major problem which a heavy massager creates is that you cannot hold it easily for a long time.
Protective Travel Case
Most of the tools come with travel case because people demand them. People travel from one place to another and when want to have their massager with themselves, they need a travel case.
The TheraGun comes with a protective travel case that you can travel with both batteries, all your attachment heads, the device, and the charging cord.
The Purewave does not come with a case. It comes with a small drawstring travel pouch. Everything does fit inside, but this pouch will not give the surety of its safety. The parts can be broken during traveling.
Handle Design
We want to have a massager that can give us complete massage from head to toe and from back to front. For this type of massage, we need a massager that has an ergonomic handle.
Both Purewave and TheraGun have ergonomic handles. Both of them give a complete massage from head to toe to your body.
There is a slight difference between these two ergonomic handles. The difference is that Purewave gives back massage to you while TheraGun does not do so. TheraGun's multi-grip handle is designed for comfortable use from any angle with zero percent stress on your hands and wrists.
Conclusion
After doing the detailed comparison, we have come to the conclusion that Purewave is a handheld massager that gives all the features that other massagers have.
If a person wants to have a good and whole-body massage, so there is no better option for him/her to opt for the Purewave handheld massager.
Purevave device is much better and economic price but Theragun G3 PRO is more expensive. So I highly recommended Purevave
With Theragun, if you're willing to invest in it, it would be much better to invest in the G3Pro. It is an incredible upgrade of the G2 pro model.