Deep Review of Hyperice Hypervolt Massage Gun
it is possibly the best-known massage gun that is currently available in the market. Many professional athletes, fitness athletes, and chiropractors who have become real stars on YouTube use this massage tool. But what is it about this massage gun?
If you ever had a chance to get a massage from a professional massage therapist, you might have an idea of how relaxing the experience can be. Going to a massage parlor can be very time-consuming and costly. Mostly you are unable to get the time out of your busy schedule. We have a better alternative for you in the form of Hyperice Hypervolt Massage Gun, which can take all your chronic pains away. It is a new and unprecedented vibrating machine, that is designed specifically to give you self-myofascial release (SMR), massage stiff joints, loosen up sore muscles, and increase the flow of blood.
In this article, we show you the ultimate Hyperice Hypervolt test. Before creating the Hypervolt test report, we tested the massage gun for several weeks and show you our conclusion in this article. Massage guns are beginning to gain popularity, and people are willing to buy their machines instead of going to the therapist. Here you will find our experience report with the advantages and disadvantages of the Hypervolt Massage Gun. We will also tell you whether it is worth buying this massager. So stay tuned!
Quick Overview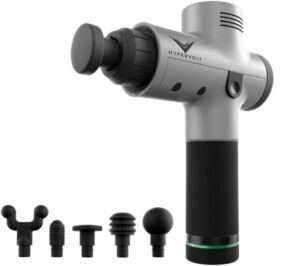 Features
5 different massage attachments
3 different intensity levels
Battery life of over 2 hours (Lithium-ion rechargeable battery)
Elegant design & good workmanship
Very pleasant volume, even at the highest level
Best For Athletes & runners
Cordless
Quiet Glide Technology
Hyperice – Manufacturer of innovative Massage Devices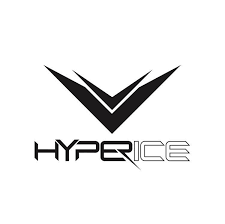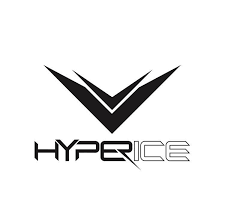 Before we start with the Hypervolt Massage Gun Test, we would like to take a little digression and provide you with background information on the manufacturer of the Hypervolt Massage Gun:
The company hyperice, based in the US, is a fitness company, the muscle has specialized in the development of innovative vibration massage devices to improve performance and recovery.
In addition to the Hyperice Hypervolt massage gun, the company also has many other massage tools in its product portfolio, such as a fascia roller with vibration function ( Hyperice Vyper 2.0 *) or a compression cuff specifically for legs or shoulders (Hyperice Venom Leg or Venom Shoulder). The Hypervolt Massage Gun is, however, the bestseller and the best-known product of this company.
This is why everything revolves around testing the Hypervolt Massage Gun.
The first impression of

Hyperice Hypervolt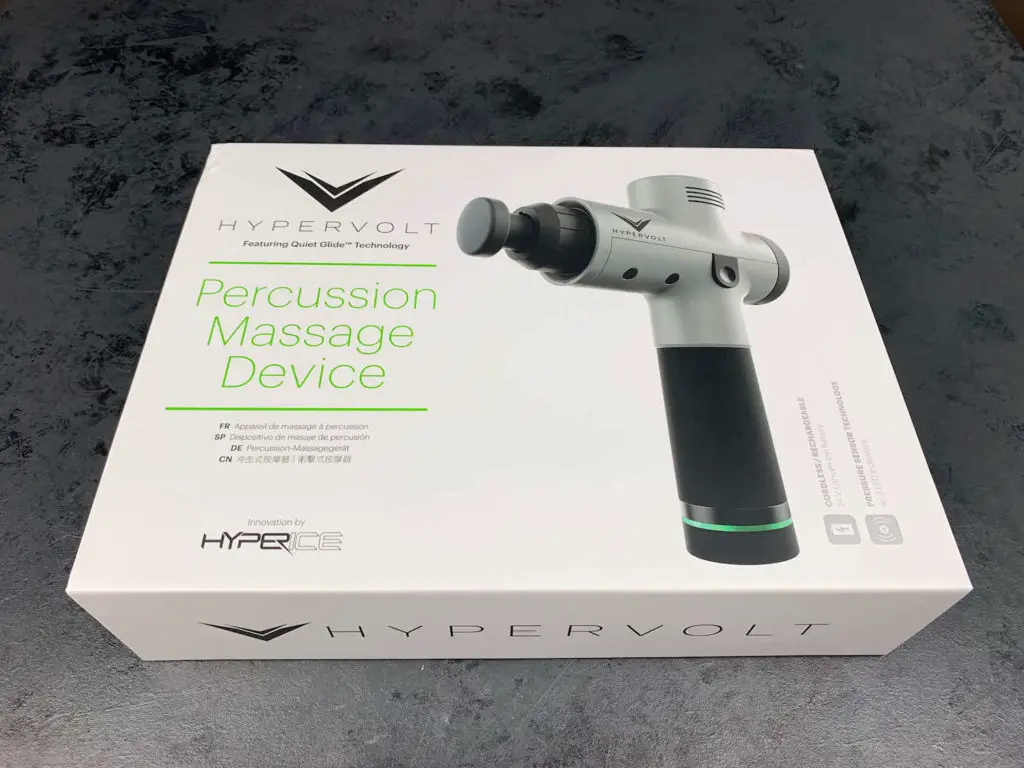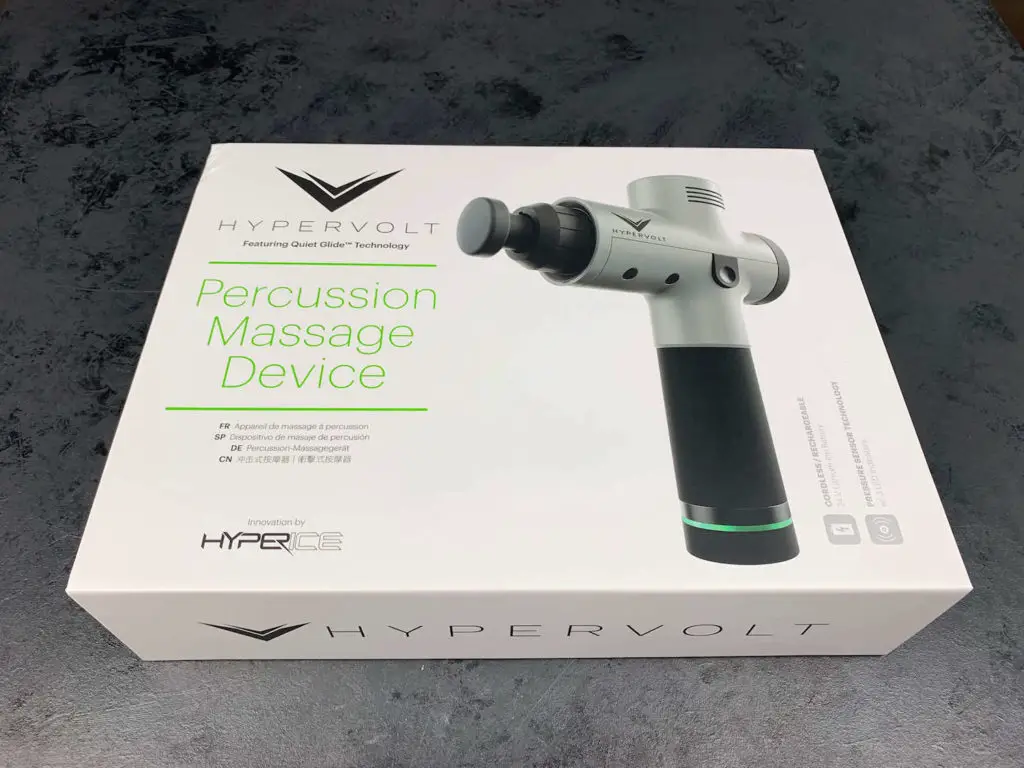 When the package arrived, we couldn't wait to finally take a look at the long-awaited massage gun and then write this Hyperice Hypervolt test for you. The first glance at the packaging leaves a lasting impression and makes you look forward to the inside.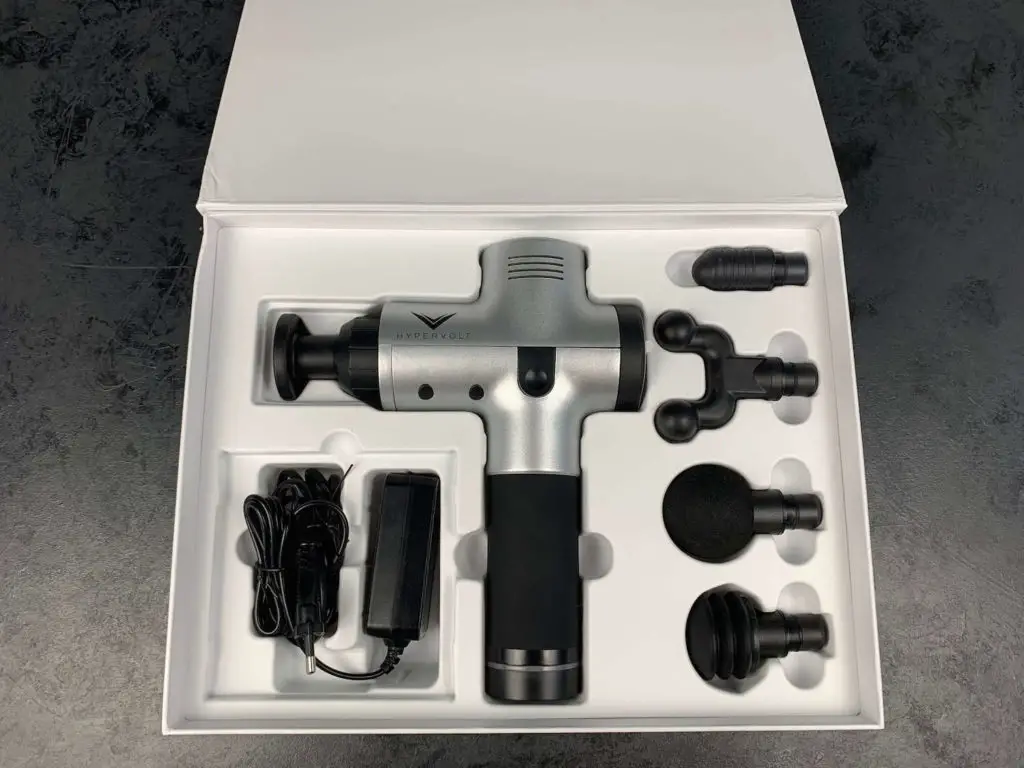 The Hypervolt is well protected in an elegant folding box with a magnetic closure. The buyer can see at a glance what awaits them here. Because the Hypervolt Massage Gun is very prominently printed in its original size on the top of the packaging. Since the Hyperice Hypervolt is delivered already charged, you can conveniently use the massage tool directly without having to charge it for hours beforehand. So we jumped full of energy into the Hypervolt massage gun. First of all, we tried the flat massage attachment, which is already pre-assembled. Before we report on the massage experience, however, we will first look at the exterior of the hyper-volt in the next section.
Hypervolt Massage Gun

Optics & Haptics
In this section, we would like to deal with the optical and haptic properties of the Hypervolt Massage Gun. In most cases, a qualitative product is already noticeable in its presentation and the materials used.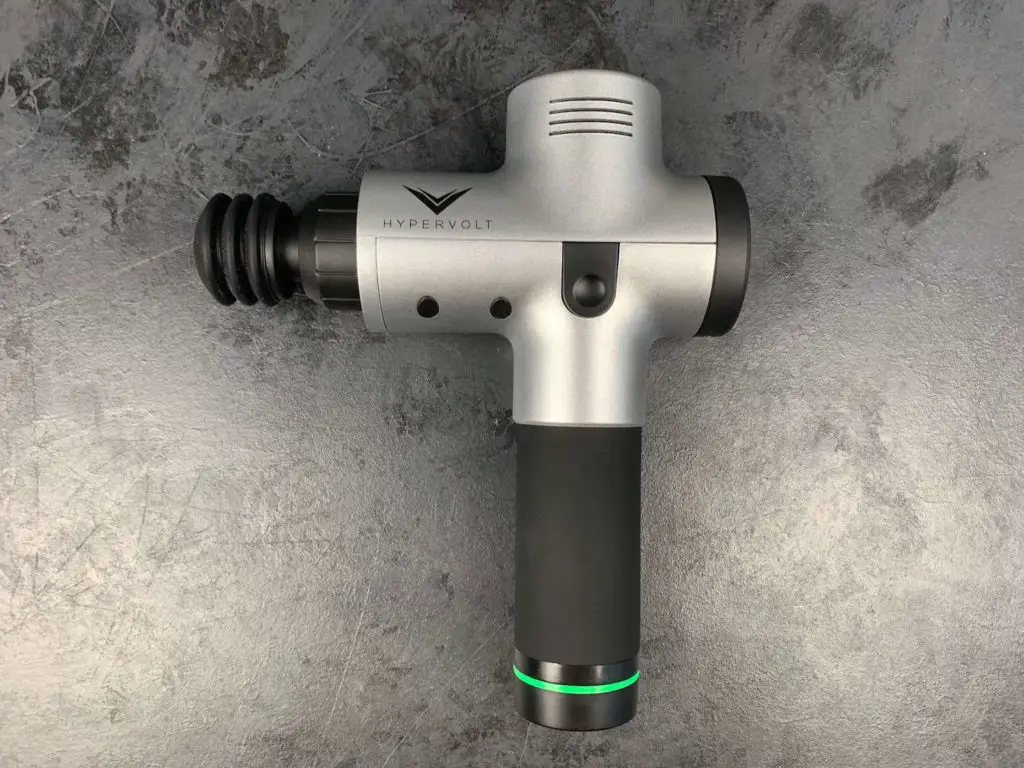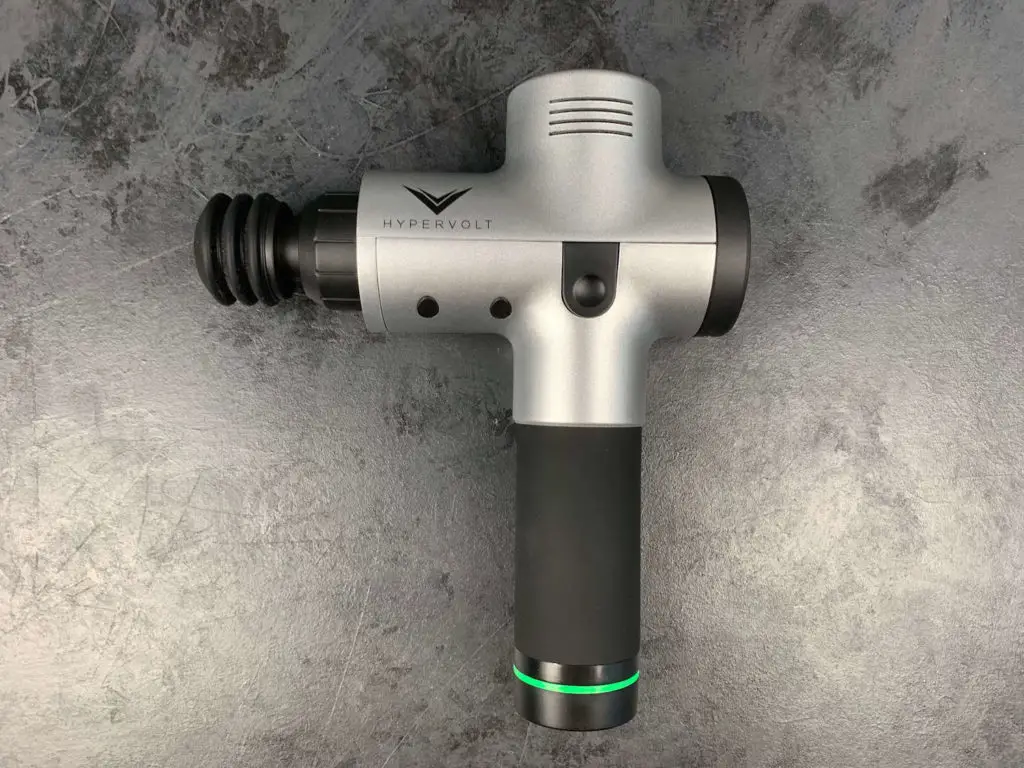 Visually, the Hypervolt massage gun impresses with its shiny metallic surface and the striking black handle, which has a green light strip at the bottom when it is started up. The gray housing is made of brushed stainless steel. For comparison: alternative massage guns are usually made entirely of plastic. Here the Hypervolt scores with its outstanding workmanship!
The handle has a slightly roughened rubber surface. This is said to make it easier to hold the massage gun during use. Since the Hypervolt was designed in such a way that you should also be able to massage yourself, this massager only weighs 1.2 kg. So the self-massage is very comfortable. Other massage guns sometimes weigh over 2 kg for comparison.
However, people with slightly smaller hands could find it difficult to use the Hypervolt Massage Gun with one hand because the handle is relatively thick. On the other hand, this gives them a good excuse not to carry out the massage themselves, but to be massaged by their partners 🙂
We personally had no problems using the hypervolt. By the way, we don't have very big hands.
In this section of the Hypervolt test, we look at the volume of this massage gun. The volume is an extremely important criterion in our eyes and ears. The massage should provide relaxation and regeneration. Loud tones are definitely out of place. A handheld massager that is as loud as a jackhammer is not only annoying, it also reduces relaxation and even affects our health.
Loud noises have been shown to increase the release of stress hormones such as cortisol. Cortisol attacks the immune system and is counter-productive in terms of muscle health.
The Hypervolt is currently one of the quietest massage guns on the market.
In the volume comparison of the massage gun, the Hypervolt scores excellent. If you compare the Hyperice Hypervolt massage gun with the probably biggest competitor on the market – TheraGun – you can see that there is a huge difference in volume.
The TheraGun G2PRO has a volume of 85-90 dB.
The TheraGun G3PRO Although advertises 50% to be quieter than its predecessor, but still has a volume of 70-75 dB on.
It should be mentioned that a 10 dB difference equals doubling the volume.
Check out the detailed review of Theragun G3 Pro.
Hypervolt massage Gun

Attachments and its Features
Flathead attachment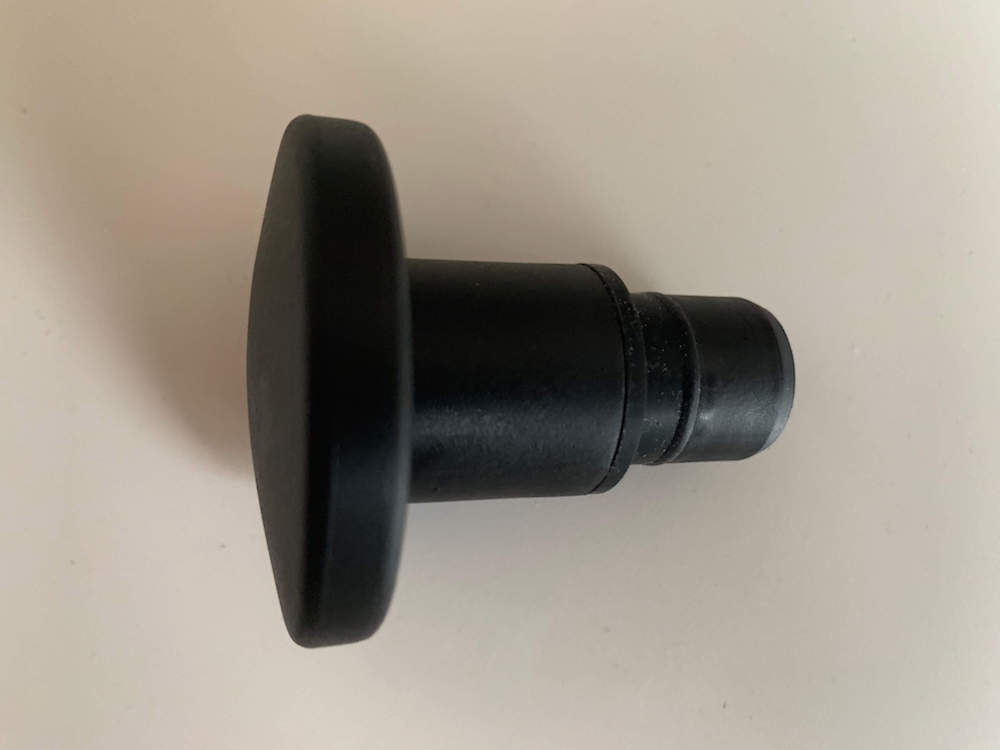 The flat head attachment is probably the most used and versatile massage head from Hypervolt. Due to its flat and very large surface, the vibrations are distributed over a larger area in the body. Its head is flat at the end, almost like a disc. It is best for denser parts of the body like hips, quads, glutes, and pecks, etc. It is a multipurpose attachment, as it provides good contact and applies deep pressure, compared to a ball, which is a curve. This attachment does not penetrate the tissue as deeply as, for example, the Bullet attachment – in contrast, the flat-head can be used for large-scale treatment. From back to chest, from arms to legs. There are almost no limits to the flat-head attachment. For people with back problems or athletes who want to loosen up or regenerate their muscles, the flat-head is the No. 1 choice.
Check Out the best massage guns for athletes
Bullet Attachment – The Bullet Head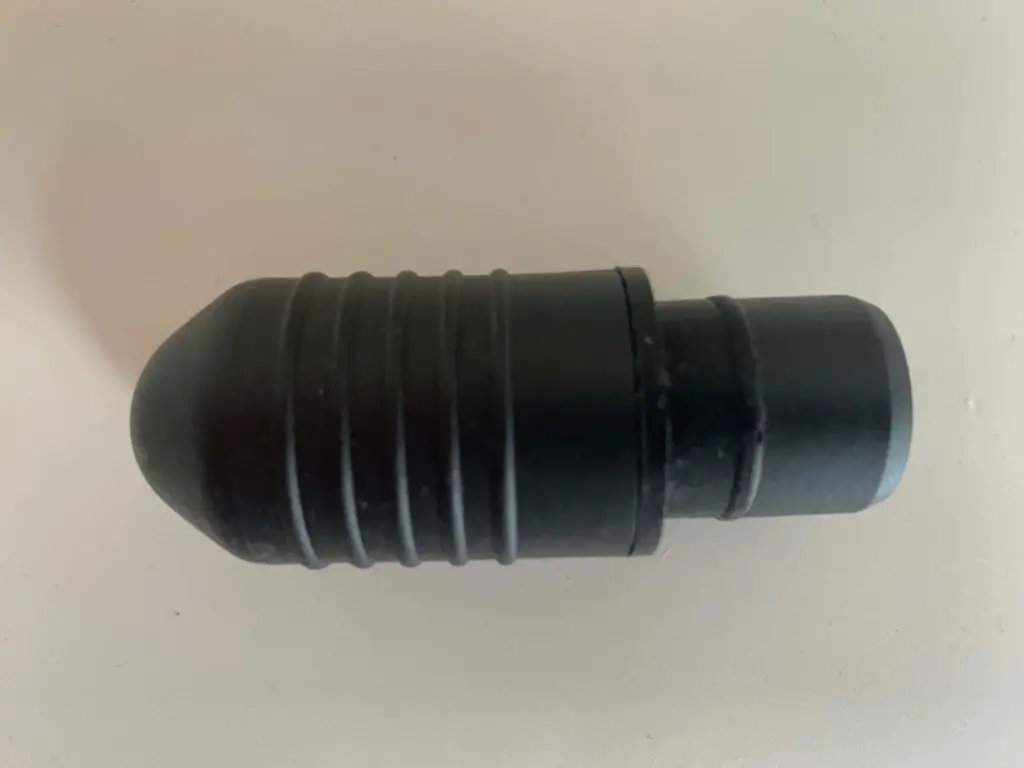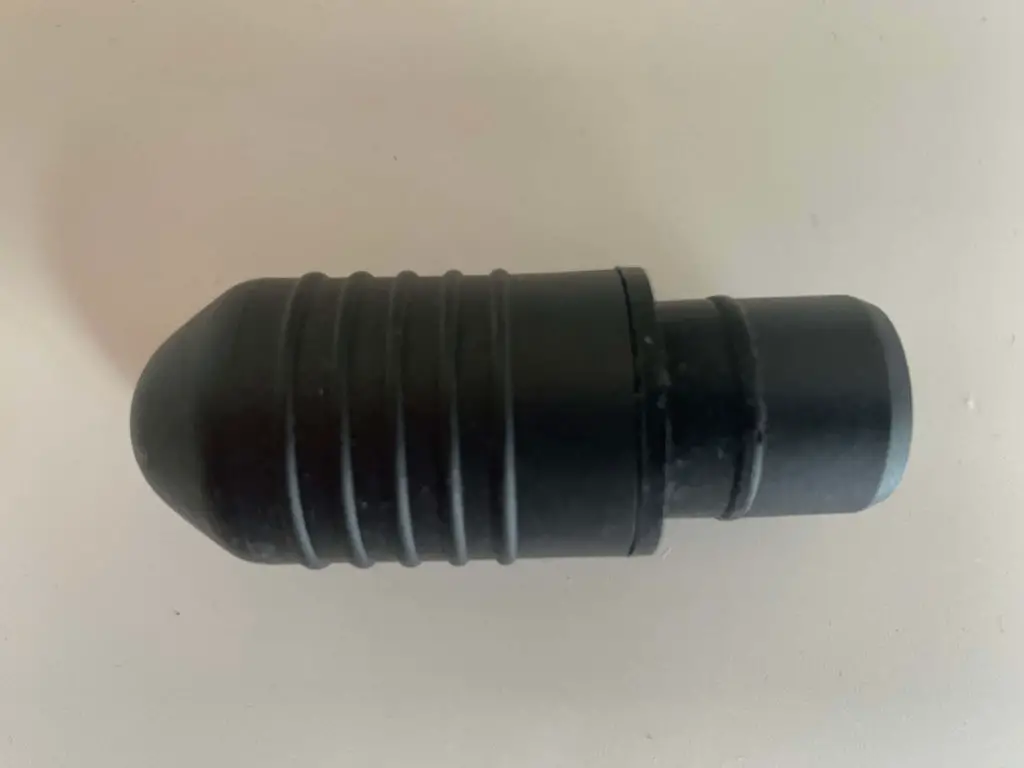 In direct comparison with the other massage heads, the Bullet attachment has the smallest area, which also tapers. Visually it resembles a projectile (gun bullet), which is why it bears the name Bullet. The Bullet attachment is the best way to treat trigger points and other painful areas on the body since it penetrates deeply into the tissue. With this essay you shouldn't work over a large area, you should really massage selected areas.It is just like applying pressure through your fingers. It is really good for targeting specific areas and trigger pressure points.
Ball Attachment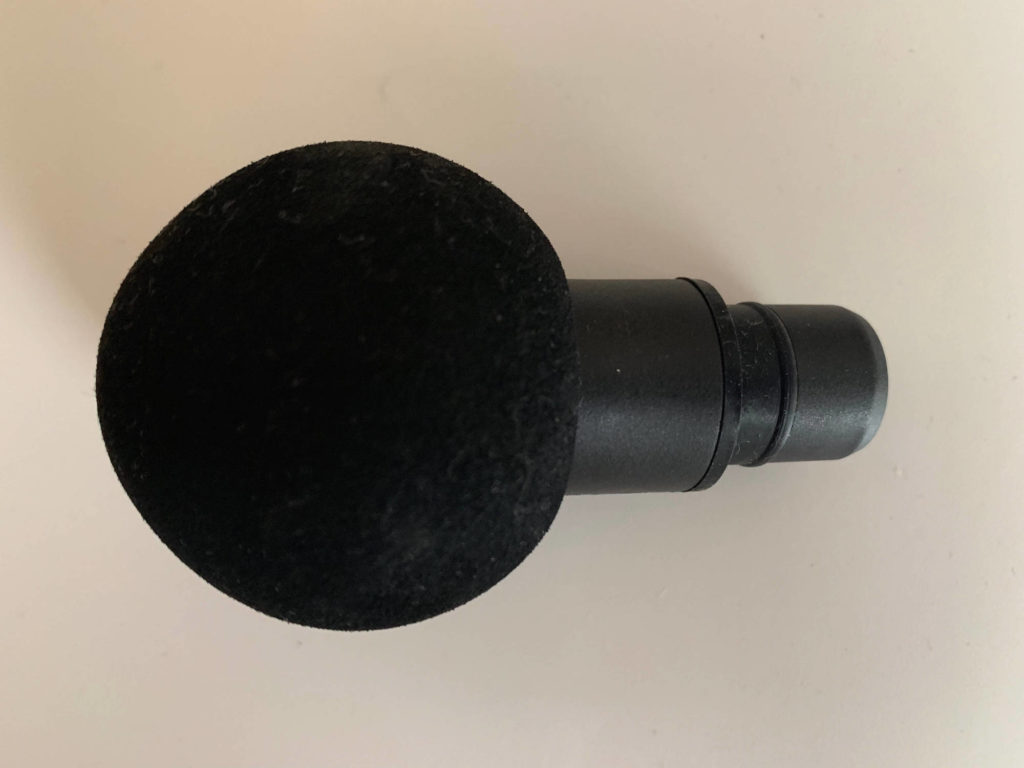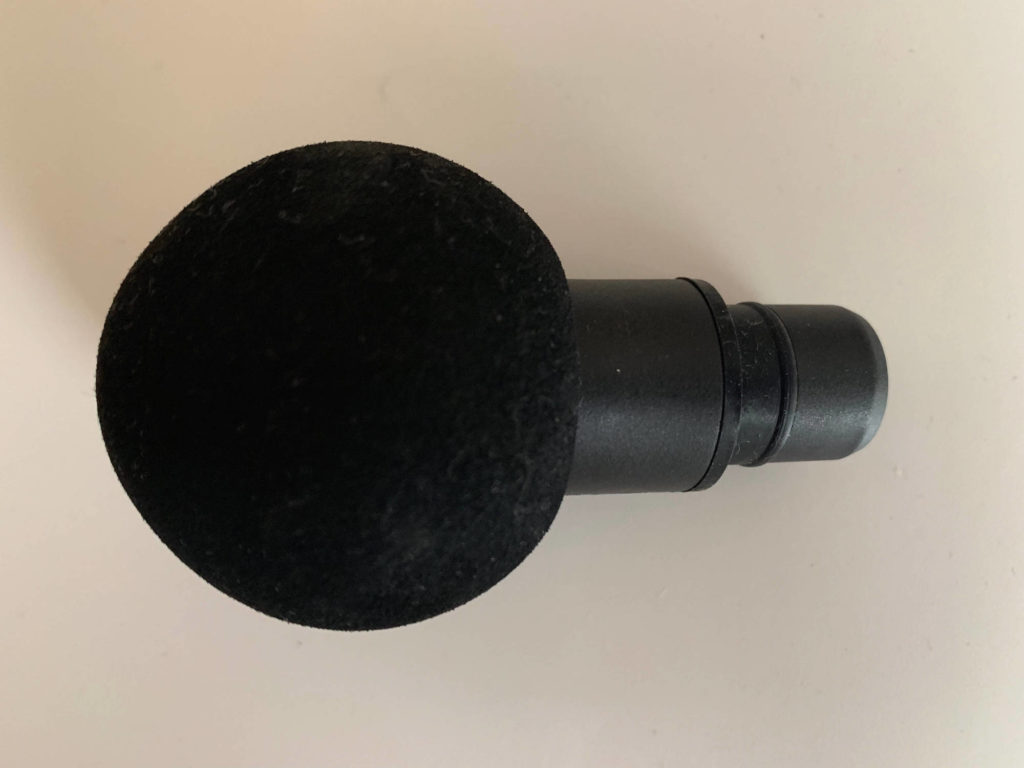 In contrast to the other massage heads, the ball attachment is made of a somewhat softer material. It is shaped like a ball and is used to apply less pressure to areas like the shoulders and neck. This attachment is therefore particularly suitable for more sensitive areas such as the neck. This attachment is also suitable for large muscle areas and extensive treatment. We also recommend the use of the ball attachment to people who want to get started with the Hypervolt Massage Gun.
Fork Attachment – The Fork Head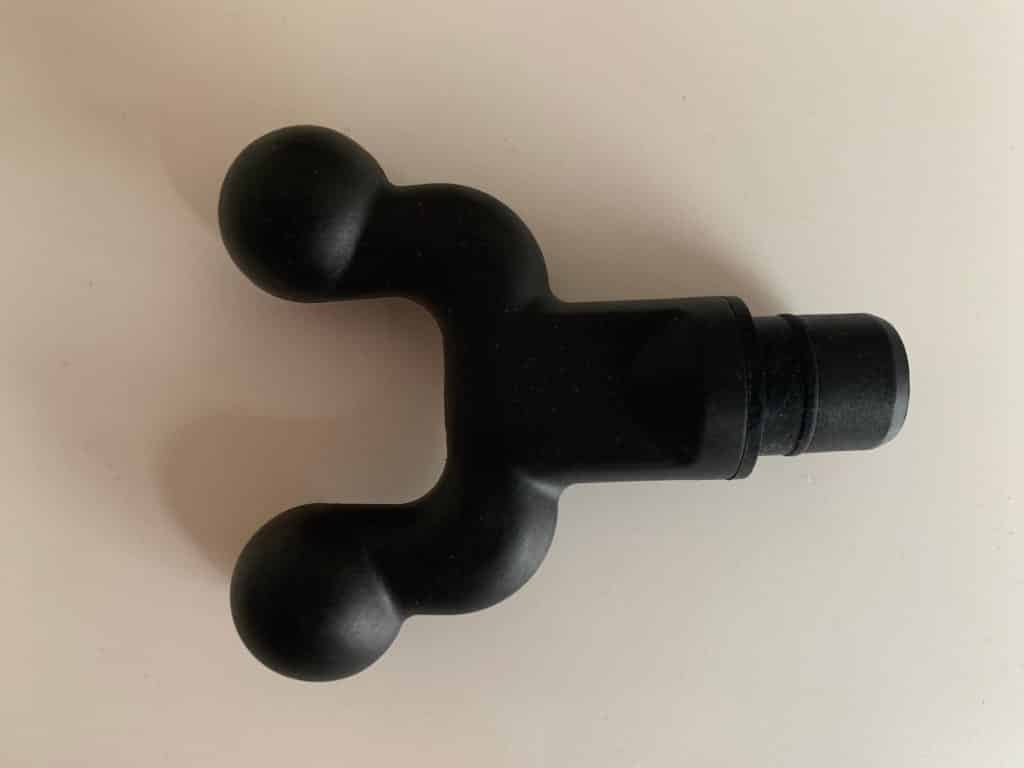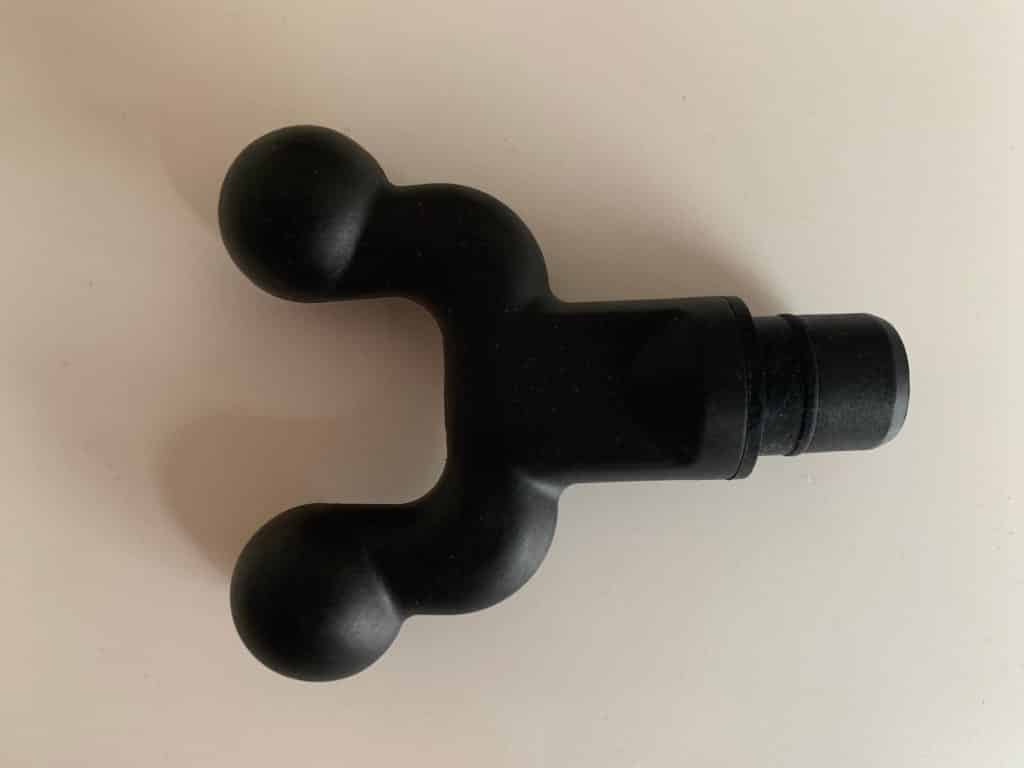 One of the most uncomfortable feelings when treating with the Hypervolt Massage Gun is probably bumping your bones. The bump on a bone can happen quickly, especially in the case of slightly slimmer people. It is a good thing that the fork attachment is available for this case. This massage head has been designed for use on the back along the spine. This essay is a blessing for people with back pain.
In addition to treating the entire middle back, this attachment can also be used to treat wonderfully larger muscle groups, such as the thigh.
This fork-like attachment has a much different feel because it has two prongs at the end and most people use it for the traps. You have to put the trap in between the fork and move back and forth to get to the tissue. It is used mostly on ankles and feet.
Shock absorber flat head Attachment – Cushion Head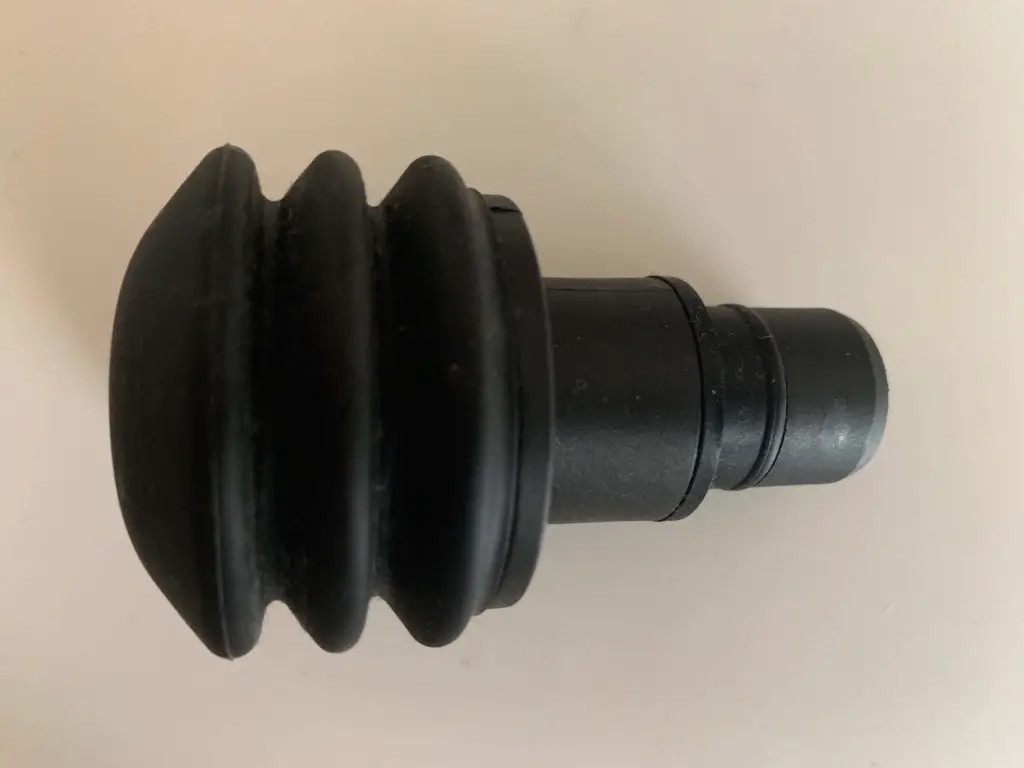 This essay has not been around for so long. In the previous model's there were only 4 attachments. This is the 5th massage head in the bunch. In our opinion, the shock absorber flat head is a light version of the flathead attachment. With this attachment, you can treat the body over a large area. In contrast to the flat head attachment, this has shock absorbers, which make the blow to the body a little milder.
Especially female users have preferred this attachment to the normal flat head. So if you like it a bit milder, this essay is good for you.
It ranks somewhere between ball attachment and flathead. It is much softer at the end so it relaxes the muscles smoothly.
How to change Hyperice Hypervolt Massage Gun attachments?
Hyperice Hypervolt massage gun has five switchable massage nodes in its box. Changing the massage attachments of Hyperice Hypervolt is very simple and easy. Push attachment into the product with a little twist. Removing attachments is also straightforward turn the massage attachment and pull it from a gun.
How to fix the attachments
You will be able to see that there is a rubber seal at the end of the attachment. You have to push that seal into the gun and give it a quarter turn to fix it. You will feel the attachment hit the back wall of the gun with a click sound.
How to remove the attachments
To remove the attachment, you have to pull it outwards with a little quarter turn, and it will come right out. You can also pull it straight out without the quarter-turn but, it will require much force and will give a popping sound. Now change the attachment and continue with your massage therapy.
Hypervolt Battery Life
The endurance of the Hypervolt Massage Gun is one of its greatest assets. With a battery life of 2-3 hours, the Hypervolt does an excellent job in the comparison. With daily use of the massage gun of 5-10 minutes, the Hypervolt only needs to be charged every 24-36 days.
If the Hypervolt is used continuously at intensity level 1, it will withstand around 3 hours. At the highest level, the battery life is around 2 hours.
As part of our Hypervolt test, we used the massage gun for 4 weeks and actually never charged it once.
A useful and very chic detail caught our eye when using the Hypervolt. The battery level can not only be read from the control surface, but also from the color of the light strip on the handle. While the light strip is still green at the beginning, it turns yellow and then orange during use. If the battery level runs out, the light strip will finally turn red. This is a very nice feature we think!
To charge, the Hypervolt Massage Gun only needs to be connected to a charging cable, similar to charging the smartphone. The Hypervolt is fully charged again within 2 hours and ready for another 24-36 days of use.
Hypervolt advantages and disadvantages
Now we draw our conclusion from the Hypervolt test. In the following, we summarize our experience report and show you the advantages and disadvantages of the hypervolt.
As you can see from the number of bullet points, the positive aspects clearly outweigh them. In our eyes, the disadvantages of hypervolt's are trifles or aspects that disappear over time. When opening the packaging, we first noticed a plastic smell of the attachments. This smell disappeared on the first day.
We personally are very satisfied with the Hypervolt and can therefore only give our readers a clear recommendation to buy the Hypervolt.
[i2pc pros_icon="icon icon-thumbs-o-up" cons_icon="icon icon-thumbs-o-down" show_title="true"show_button="false" pros_title="What We Like" cons_title="Cons" ][i2pros]
Lightweight
: Hyperice Hypervolt massage gun is very lightweight and easy to move the device. The unit weight is only 2.5 pounds. You can use it for the long run because it will not fatigue your arm. This massage gun is easily moveable.
Attractive design
: Hyperice Hypervolt massage gun is available in a very attractive and beautiful design with high-quality material.
Easy to switch massage heads:
Massage attachments of Hyperice Hypervolt gun can change quickly. Even those peoples, unfortunately, who have one arm are also able to switch massage heads easily. Promptly change attachments will save your time.It comes with five attachments that
trigger areas like the foot
or back of your neck and give you a whole experience of the massage
Best portable massage gun
: Dew to lightweight, this device can easily moveable anywhere. You can use this device anytime you want because you can carry it in your travel bag too. It is small and easy to carry around and you can easily take it with you while travelling or at your job. Many fitness trainers like this massage gun too much because it's easy for them to move it from location to location to facilitate people.
Battery life
: Hyperice Hypervolt Massage Gun has a 2500 mAh long-lasting battery. Due to Its enduring battery, you can use it for 2 to 3 hours at a low-intensity level and 2 hours on the highest level to massage the body for relaxation. Another advantage of this is that there is no need to remove the battery for charging.
A complete message set
: Manufactures launched Hyperice Hypervolt Massage gun in the market with the full set of five massage heads. So that's why there is no need to spend money to buy any additional massage attachments when you purchase them newly. But if you do not want to share your massage heads with someone else (for hygiene causes), you need to buy a separate set of massage attachments.
Not time-consuming
: Results start to show within a few minutes of use.
Accessories availability
: The most significant advantage of this massage gun is its accessories availability in the market. Later on, if you face any problem like you want to replace the old massage heads with the new one, you can easily buy from the market. Even If your charger is damaged, you can buy it too.
No noise irritation
: The best thing about this massage gun is its Quiet Glide™ Technology in the motor. Due to this technology, their motor not makes noise during use. When you start, it will just make a soft buzzing sound. So it makes it different from their competitors. It is the quietest massage gun I have ever seen.
Simplicity
: The massage gun is easy to use with no special training required.
Adjustable Speed settings
: Hyperice Hypervolt massage Gun has three different massage speed settings. It is low, medium, and high, helping a person massage the body according to need. [/i2pros][i2cons]
Non-adjustable massage arm
: This massage gun's problem is that it has only one angle massage arm than other percussion massagers. Due to rotatable massage hand, it's easier to massage particular body parts like your inner-thigh and calves without turn your body too much.
No massage gun case
: No carrying case included in massage gun accessories that are not a good thing. You will pay extra for a massage gun case if you want to get it.
Hard massage heads
: The Hyperice Hypervolt gun's massage heads are not too soft as they should be. Probably they are made with hard plastic.
Thick handle
: The handle of the massage gun is too much thick. It's hard to grip the gun for small hands. This massage gun is also heavy than others.
Costly
: Compared to other handheld massagers, It is quite costly.
Accidental injury
: There is always some percentage of accidental injuries present if the massage gun is not used properly
Not for everyone
: The massage guns are still a relatively new product, and not enough data is available to make a statement about their effectiveness on every kind of muscle pain. Not to be recommended for people with a low tolerance for pain
Two power buttons
: The HypericeHypervolt massage Gun has two power buttons that are a little bit confusing at the start. The attachments are made of hard plastic and smell at the beginning.[/i2cons][/i2pc]
FAQ's
Is the Hypervolt Massage Gun worth it?
Massage guns are portable massage devices. One of the massage guns is Hypervolt. The Hypervolt is the brand of Hyperice that is a reliable percussion massager's company. The Hypervolt massage gun works by using attachments to trigger specific areas. It is now widely used by chiropractors and athletes to relax the muscles after a vigorous workout. It is a big deal to find a worth buying massage gun. But is it worth it really? Does it provide the expected results? Let's catch a glimpse of whether it is worth the hype or not.
Hypervolt because of its features and accessories.
Features:
Responsiveness
Deep tissue Massage accuracy
Convenient
Quiet glide technology
Cordless
Portable
Accessories:
Hypervolt gun
Five exchangeable massage additions
Wall charger AC/DC
Battery
These all accessories are including in the gun price. You will no need to pay extra for these.
You can easily target the painful knots in your muscles. You can use it before exercise as a warm-up tool. People like it mostly because you can use it while watching TV or listening to a podcast. Five free massage attachments available with the gun also a reason to buy this gun.
The Hypervolt is a smooth massage gun with a good percussion machine with a 3-hour battery life; 2.5lb in weight, five different attachment heads, 3200 RPM 3-speed motor, and hand movement are easy without any exhaustion. Like other massage guns, it provides relief in various ways described below.
Toxic Release: It helps release toxic materials like lactic acid from the body that builds up due to lack of oxygen. It usually happens after you exercise and the body finds it difficult to burn these toxics resulting in muscle cramps.
Healing through vibration: If you use a massage gun after your workout, it will help in healing the sore muscles.
Increase blood flow: After using the Hypervolt massage gun, you will feel sudden flexibility in your joints due to increased blood flow and, it can be beneficial, especially for athletes.
Reviewers often compare the Opove M3 Pro with Hypervolt. It looks just like the Hyperice Hypervolt massage gun and copies the trademark QuietGlide in the description. It also copies the design tries to attract the attention of the Hypervolt customers to their brand. The M3-Pro is less costly and comes with a carry case, unlike Hypervolt, which doesn't have a travel case included and has to be bought separately.
What makes Hypervolt Standout from its competitors?
Performance comparison: The Hyperice Hypervolt massage gun has a more powerful motor as compared to the Opove M3 Pro. The exact power of these guns cannot be compared, but according to feedback given by users, the maximum speed of the M3 Pro is the same as level 2 of Hypervolt.
Most of the users of the M3-Pro gun noted that after 1 hour, it starts to heat up and gets jammed. It has to be cooled down to work again. Comparatively, the Hypervolt had no such issues.
Design comparison: Both machines look alike but if you look closely, you will notice that Hypervolt is more sophisticated. The seams are bound more closely together. Furthermore, the paint looks more finished and overall has a premium look to it.
The M3 Pro has some minor defects when it comes to the finishing of paint and the plastic used. The overall feel of the gun is not premium.

These differences are pointed out because we want to justify the price difference but, if anyone didn't see the Hypervolt and do not have it side by side to compare it with M3-Pro, he would be satisfied with the quality of the M3-pro gun.
How to use Hyperice Hypervolt Massage Gun?
Hypervolt is an ideal tool for massage therapists. It is an alternate tool but doesn't replace the hands. It is a phenomenal tool because you get the benefits of vibration therapy.
There are multiple attachments available. Three different speeds help in triggering pressure points depending upon the density.
| | |
| --- | --- |
| Speed 1 | The speed controller is at the back of the massage gun. If you press it once, it will start at the lowest speed of 2000 percussions per minute, suitable for the upper part of the body like the shoulders and neck. |
| Speed 2 | Press the back button again to set it to speed 2, and it will be 2600 percussions per minute. It is best for slightly denser areas like arms and sometimes around legs as well. |
| Speed 3 |  It is the 3200 percussions per minute and is used for dense areas like hips, glutes, quads, and piriformis. A more dense area requires more force to loosen up. |
The use of the Hyperice Hypervolt massage gun is straightforward. Follow the following step
Unbox your Hyperice Hypervolt massage gun.
Charge the gun if charging is low.
Select any massage head that you want to use for massage.
Now attach your massage head.
Turn on your Hyperice Hypervolt massage Gun.
Please select your desired massage intensity level and start moving it in the circle to massage the body.